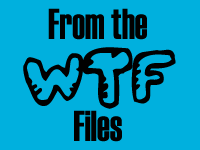 The
WaPo
reports
:
A company in the United Arab Emirates is poised to take over significant operations at six American ports as part of a corporate sale, leaving a country with ties to the Sept. 11, 2001, hijackers with influence over a maritime industry considered vulnerable to terrorism.

The Bush administration considers the UAE an important ally in the fight against terrorism since the suicide hijackings and is not objecting to Dubai Ports World's purchase of London-based Peninsular and Oriental Steam Navigation Co.

The $6.8 billion sale could be approved Monday and would affect commercial port operations in New York, New Jersey, Baltimore, New Orleans, Miami and Philadelphia.

DP World said it won approval from a secretive U.S. government panel that considers security risks of foreign companies buying or investing in American industry.
Stranger at Blah3
comments:
[J]ust where does the Right side of the blogosphere--you know, the people who wake up in the morning thinking of new ways to demonize people from the Middle East--come down on this issue?

My guess? Since their Handsome and Powerful SuperPresident Bush has approved it, it's all just peachy-keen with them. Morons.

And one more note--the Washington Post obviously sees the import of this story, seeing as how they chose to print it on page A17. Way to go, WaPo.
I don't know what I find more disturbing--that the oversight of ports is being sold like a bobblehead on eBay, or that a "secretive U.S. government panel" has cleared the way for the sale without so much as a murmur beyond page A17.
(Crossposted at
AlterNet PEEK
.)