What could be more fun than parents and kids getting together to think about
emergency planning
?
The Homeland Security Department on Thursday introduced a new emergency-preparedness campaign to teach 8-to-12-year-olds how to prepare for a terrorist attack, natural disaster or other emergency…

The kid-friendly program features an adventurous mountain lion mascot named Rex, a website (www.ready.gov) and classroom teaching materials being sent to 135,000 middle school teachers in the nation's 25 largest metropolitan areas…

The latest campaign takes a lighter approach, offering games and puzzles on the Ready website. The site also offers instructions on how families should prepare for emergencies and lists item they should keep in stock, including a three-day supply of non-perishable food, a battery-operated radio and duct tape.

"You and your family can collect items for your emergency-supply kit during a family scavenger hunt!" the site says.
You can't make this stuff up. Just reading the article brings back fond memories of kneeling on the cold linoleum of my elementary school hallway during tornado drills, or crouching under my desk during air raid drills, while questions about how a half-inch of pressed wood chips was going to protect me from a nuclear bomb danced in my head. It probably would have been more fun with a guy like
Rex the Mountain Lion dad
, though.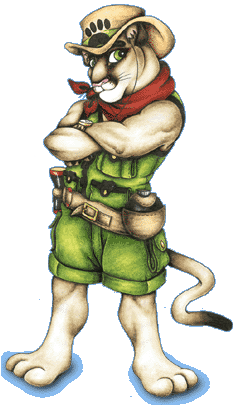 Boy, he looks familiar.
I think a friend of mine might have hooked up with him at Gay Pride a couple of years ago.
Rrrrrrrow.