Bush Urges Confidence in His Leadership
. Mr. President, all the urging in the world ain't gonna make me confident in your ability to skillfully lead a chorus of 100 Bottles of Beer on the Wall, no less my country.
What a useless story. The accompanying AP image, however, taken as Bush spoke from the stage of Grand Ole Opry House in Nashville (WTF?), may be useful in explaining why he's so keen on missiles and codpieces.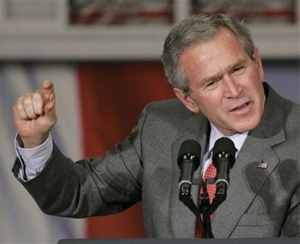 Have I ever mentioned I love
the Washington Monument?