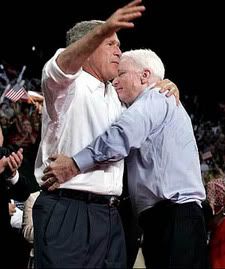 Bush to McCain:
Suck it, old man
.
The President signed the Defense Appropriations bill on Friday. In his signing statement he did at least two notable things…

Most importantly, as to the McCain Amendment, which would categorically prohibit cruel, inhuman and degrading treatment of detainees by all U.S. personnel, anywhere in the world, the President wrote:

The executive branch shall construe Title X in Division A of the Act, relating to detainees, in a manner consistent with the constitutional authority of the President to supervise the unitary executive branch and as Commander in Chief and consistent with the constitutional limitations on the judicial power, which will assist in achieving the shared objective of the Congress and the President, evidenced in Title X, of protecting the American people from further terrorist attacks.

Translation: I reserve the constitutional right to waterboard when it will "assist" in protecting the American people from terrorist attacks. [UPDATE: Or, as Matthew Franck eagerly puts it over at the National Review, "the signing statement . . . conveys the good news that the president is not taking the McCain amendment lying down."]
Yeesh. Hilzoy at Obsidian Wings has
more
.
Bush and pals have been delivering one huge, heaping helping of abuse on McCain's chocolate rosebud ever since the 2000 campaign. I guess the old man likes it, because he sure doesn't seem to object.
In fact, an anonymous source within his campaign sent me a picture of a new look he's trying out in preparation for 2008. I think it looks sharp. It's nice to see him embracing his inner gimp.