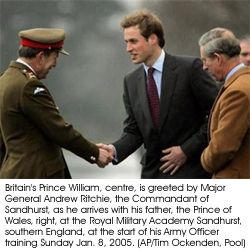 Britain's Prince William is
beginning his military training
at Sandhurst Academy.
William, 23, the eldest son of Prince Charles and the late Princess Diana, becomes one of the 270 recruits taking the 44-week course. Charles traveled to the academy to accompany William on his first day.

The future king was required to bring his own ironing board as well as heavy black military boots…

William, who graduated from Scotland's St. Andrews University in June, will be the most senior royal in recent memory to attend the academy — opting for the army rather than the navy.

Charles trained to be a pilot with the Royal Air Force as well as serving in the Navy.

William follows his younger brother, Prince Harry, who enrolled at the academy in May.
Just the other day, Mr. Shakes and I were talking about the British Royal Family, of whom, being a Scotsman, he's no great fan in a historical sense. But he has a deep respect for the modern Windsors, who carry on the admirable aristocratic tradition of serving their country—in the military and other ways—in exchange for the privilege the country affords them. Princes William and Harry have the same chance of serving in Iraq as do any other officers; their uncle, Prince Andrew, served in the Falklands War. When the British government wanted to relocate him to a desk job from the HMS
Invincible
, one of only two operational aircraft carriers available to the Royal Navy, it was the Queen herself who insisted that Prince Andrew be allowed to remain with his ship. After the war, the Queen and Prince Philip joined other families of the other crew to welcome the vessel home, just a mother and father like any other, glad their son was safe. During WWII, that same mother and father refused to leave their London home when London was bombed, standing in solidarity with the people who had no option but to stay.
We don't have an aristocracy in America in the same sense as does Britain, but that isn't to say we don't have one at all. George Bush, in spite of his brush-clearin' good-ol'-boy routine, is nothing if not an aristocrat—born to wealth and power, schooled in the best private instutitions, rising to prominence not on his merit, but his name. And like many American artisocrats, Bush used his privilege, while denying its existence at every turn, to avoid serving his country, until he could do so as a leader, at which time he shed any pretense of serving the country, instead serving the agenda of other aristocrats.
He is, however, of the new American aristocracy. There are still aristocrats in America who follow the British tradition, men born to privilege, wealth, private schools, and limitless opportunity who repay this debt of inherited fortune by serving their country. Men who graduate from an Ivy League School and enlist in the military. Men who go to war and come home to serve again, as prosectors and Congressmen and Senators. Our last two Democratic presidential candidates were men like this.
Men like this don't mask their privilege, nor do they flaunt it. It simply
is
. But in our typical American way, pretending as we love to do that there is no aristocracy in America and hating the merest whiff of blue blood, we reject patricians and disdain their privilege, particualarly when they have never sought to use it to their own advantage.
It's a peculiar tendency, this, to hold in contempt a person who has no personal need to care about the trials and troubles of others and yet does so nonetheless, who recognizes his or her fortune as a fate as random as that of someone who struggles. It's an odd inclination to prefer the charade of Bush's self-made man to Gore's nobility (in both its senses), considering it is the former who would most eagerly see the perpetuation of the divide we revile in the moments we are honest enough to admit it exists in the first place.
Someday, barring a tragedy, Prince William will become a king, and the people of Britain will remember that he served his country, and even many of those who would see the monarchy wholly dismantled, and their fortunes turned over to the people of Britain, will respect him for his service. They don't have the option of pretending that their aristocracy is anything but what it is. Some would say that's a burden; I think it's a gift. Our insistence on make believe has imagined us right into
a new Gilded Age
.