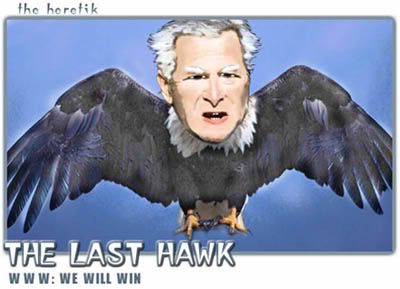 The Heretik
takes on Brand W:
W W W We will not waver (see waiver for important details). The wicked will not win.(Results may vary. Your victory results may not be the same as ours.) It's World War Three, the Global War on Everything Terror TM, brought to you by the people who brought you W, the boy on the bubble who stood on the rubble, the man to stand behind as they stand up and we stand down. We should all fall down with shock and awe at the brilliance of such Patriot Acts. W, W, W. Watch what you say, watch what you do. The Heretik is falling down laughing. Or something.

ONCE YOU REALIZE W George Bush is a brand, the marketing of the less than smart seems more the stuff of genius. Iraq? The mess of what was Mesopotamia for the White House is like the problem General Motors has with those two McKrap TM brands Buick and Pontiac.
Go read the rest. Good stuff.