Uh-oh
:
A Texas judge dismissed one charge against Representative Tom Delay on Monday but let stand two more serious charges, complicating Mr. DeLay's hopes of regaining his post as House majority leader when Congress resumes in January.
You know, I think it's a safe bet that he can wave bye-bye to that one at this point. Even the GOP can't be crazy enough to let the Bug Man return in such a public position after all this.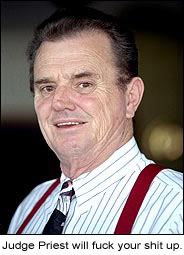 The judge, Pat Priest of San Antonio, handed Mr. DeLay and two co-defendants a partial victory in dismissing charges of conspiracy to violate the election code by making an illegal corporate contribution.

Judge Priest left standing charges of money laundering and conspiracy to launder money against all three.

The decision moves Mr. DeLay and his co-defendants, the Republican fund-raisers John D. Colyandro and James W. Ellis, a big step closer to facing trial - perhaps as soon as January - on felony charges that carry long prison terms and fines...

One Republican lawmaker, who has supported Mr. DeLay in the past but is concerned about the political fallout from this case and others involving Republicans, said there was some sense of relief with the decision, since it postponed Mr. DeLay's return to the top.
Ouch.
Although DeLay's team is calling the dismissal of one of the charges a victory, DA Ronnie Earle still has the opportunity to appeal the dismissal, and a defense lawyer involved (who requested anonymity so as not to "antagonize" the judge) said that the ruling "could be read as a substantial victory for the prosecution."
Meanwhile, Cheney appeared with DeLay yesterday at another fund-raiser, which was closed to reporters. He sure knows how to pick his public appearances.