This time with two of his disciples at his side and on a
wardrobe in Romania
:
Valeriu Junie, 66, of Drobeta Turnu Severin, says he first noticed the images about a year ago, just before Christmas.

He said: "It all started one night when I was watching TV and noticed some shadows on our wardrobe.

"I turned on the light and saw the image of Jesus in the middle and those of St Peter and St Paul on the sides.

"I didn't say a word to anyone for a few weeks but then the images started to become clearer everyday. I decided to call the priests and since then lots of people come to my house to see the miracle."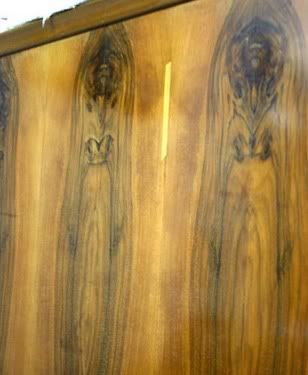 The wardrobe is made from walnut and is nearly 50-years-old. Valeriu's wife, Geta, 72, got it as a dowry on her wedding day from her parents.

Local priest Vasile Nuhaiu said: "I was shocked by what I saw there. There were three shadows on that wardrobe with the face of Jesus Christ in the centre.

"It is a miracle when Saints reveal themselves to us mortals and I crossed myself and started to pray. I told the two old people they should fast and pray to those holy images."
Pray to images on their wardrobe? Really? I actually thought worshipping iconography was prohibited, but then again, I'm a wretched heathen.
More recent holy appearances
here
,
here
,
here
,
here
, and
here
.