I've said it before, and I'll say it again: Nothing we do matters if we don't have fair elections.
To that end, we owe a debt of gratitude to Congressman Rush Holt, who has introduced House Resolution 550,
The Voter Confidence and Increased Accessibility Act of 2005
. The
measure
:
would require all voting machines to produce an actual paper record that voters can view to check the accuracy of their votes and that election officials can use to verify votes in the event of a computer malfunction, hacking, or other irregularity. Experts often refer to this paper record as a "voter-verified paper trail."

"Anything of value should be auditable," said Holt. "Votes are valuable, and each voter should have the knowledge—and the confidence—that his or her vote was recorded and counted as intended. Passage of this bill will be a big step in restoring that confidence, which is the very foundation of our democratic republic."

[…]

Key provisions of the bill include:

~ Strengthening the HAVA current audit trail requirement – "a permanent paper record" – by requiring that the voters have the opportunity to verify the accuracy of the recorded vote.

~ Requiring that all voting systems produce a voter-verified paper record for use in manual audits, commencing in 2006 in accordance with HAVA's original deadline. (Funding of $150 million is authorized to help states meet the cost of implementing this requirement.)

~ Preserving HAVA's existing access requirements for voters with disabilities; clarifying and enhancing the security requirements demanded of systems to be used by voters with disabilities; and adding the requirement that an accessible voter-verification mechanism be provided.

~ Banning the use of undisclosed software and all wireless and concealed communications devices in voting systems, and prohibiting the connection of any voting machine component to the Internet.

~ Requiring random, unannounced, hand-count audits of the voter-verified paper records (conducted by the Election Assistance Commission) in 2% of all jurisdictions, including at least 1 precinct per county. Such funds as may be necessary are authorized to fund the expense of the audits.

~ Require manufacturers and election officials to document the chain of custody with respect to the handling of software; prohibit the use of software or software modifications that have not been certified or re-certified; and prohibit political and financial conflicts of interest among manufactures, test laboratories, and political parties.

~ Expands on HR 2239 (the version of the bill in the 108th Congress) by establishing procedures to be followed if there is a discrepancy between reported results and audit results, and preserving the rights of individuals and the Attorney General's authority to pursue legal resolution of the discrepancies.
You can find additional information about H.R. 550
here
.
Currently, H.R. 550 has 159 co-sponsors in the House, 9 of whom are Republican, and has been strongly endorsed by the bipartisan Carter-Baker Commission on Federal Election Reform, but it has been sitting in the House Administration Committee since it was introduced in February. The Committee is chaired by Bob Ney, who is currently facing a
major ethics scandal
for his ties to lobbyist Jack Abramoff and evidently has no interest in fair elections, either. It's up to us to make sure this resolution gets the attention it deserves so it can make its way out of committee. This isn't a partisan issue—
everyone
should be interested in fair elections with accountability.
This post is part of blogswarm launched today by DBK of Blanton and Ashton's. His post is
here
. I encourage you, if you have you own blog, please participate in this important blogswarm, even if it's just linking back to this post. And I encourage everyone to sign the petition in support of H.R. 550
here
.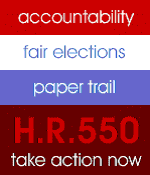 Steal that graphic. Sign the petition. Demand fair elections. Make your voice heard.