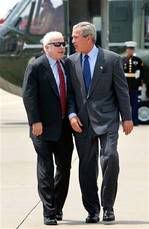 Today, John "Timbuk 3" McCain, who I loathe with a fury not an iota less intense than the sun itself, is heading off to Alabama to host a fundraiser for Lt. Governor GOP primary candidate George Wallace, Jr. The apple doesn't fall far from
the tree
—Wallace is a four-time speaker for the Council of Conservative Citizens (CCC), a group which was created from the mailing list of the old white supremacist White Citizens Councils and has been noted as becoming increasingly "radical and racist" by the Southern Poverty Law Center, which classifies the CCC as a hate group. The group opposes interracial marriage, hate crime legislation, massive immigration of non-European and non-Western peoples, and "Afrocentric" curricula in schools, but Wallace says he finds "nothing hateful" about the group.
That's good enough for McCain, apparently, who's not only endorsing Wallace, who he calls a "committed conservative reformer" (which I suspect is different from my belief that the both of them ought to be committed), but has also consented to attend fundraisers in Mobile, Birmingham, and Huntsville, to help get this douchebag racist elected.
In June, when Wallace gave the opening remarks to the CCC's national meeting, he said the attendees appeared to be "good, patriotic people." So what, exactly, do these good, patriotic people say about themselves?
"We believe that the United States derives from and is an integral part of European civilization and the European people and that the American people and government should remain European in their composition and character. We also oppose all efforts to mix the races of mankind, to promote non-white races over the European-American people through so-called "affirmative action" and similar measures, to destroy or denigrate the European-American heritage, including the heritage of the Southern people, and to force the integration of the races."
Yeah, the Nazis were good, patriotic people in kind of the same way.
As for John McCain: Straight Talkin' White Supremacist, here's his Straight Talk on Wallace, via one of his top advisers, John Weaver:
"George Wallace Jr., is an enlightened progressive leader who always speaks of tolerance and carries forth his father's views at the end of his life. He has strong support across the racial and political spectrum."
Keep on selling that load of shit, you daft prick. Come 2008, we'll see who's buying.