"One of the things I like to say about the leader's job is that it is somewhat similar to being the groundskeeper at a cemetery: There are a lot of people under you, but no one ever listens."
-- Sen. Bill Frist (R-TN), quoted in
Roll Call
.
Thus speaketh the cryptkeeper.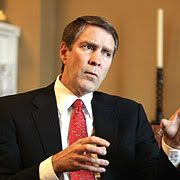 Mmmffff. Blurrrggghhhhhhhh.
Brains taste good.