Eddie Izzard on why transvestites should be allowed in the military, too:

I was going to be in the army when I was a kid. Yes. And I say that and people go, ohhhyuhyuhyuh, no I was, I was going to be in the army when I was a kid. Because if you're a transvestite, you're actually a male tomboy…
I didn't join the army, as you might have noticed… Because there's not much makeup in the army, is there? No? They only have that nighttime look, and that's a bit slapdash, isn't it? And they look a mess. And so you can't join, even though the American armed forces have a distinct policy of "don't ask, don't tell" towards the alternative sexualities. If you're a bloke wearing a lot of makeup, you know, I don't think they need to ask, really. And so you can't join. They go, "No, no, you can't. It's – wrong shade of lipstick for the army, I'm afraid…"
And they're missing a huge opportunity here because we all know one of the main elements of attack is the element of surprise. So what could be more surprising than the 1st Battalion Transvestite Brigade—airborne wing. The airborne wing parachuting into dangerous areas with fantastic makeup! And a fantastic gun. And the opposing forces going, "Fucking hell, look at these guys… Hey, they've got guns! Ahhhh! They've got guns! Oh bugger. I was so surprised. Were you surprised? I was surprised. "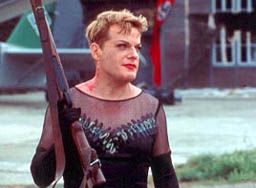 Eddie, get your gun.