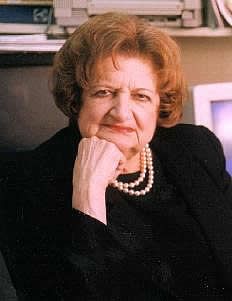 That "
old Arab
," Helen Thomas
I've always revered Helen Thomas, and today I dig her
a little bit more
(via
WTF Is It Now??
):
White House press secretary Ari Fleischer is on book tour.

Howard Kurtz writes: "Fleischer's book, 'Taking Heat,' is out today, and while his style isn't to smack people around, he is the first Bush administration insider to offer a sustained indictment of the media. White House correspondents, he says, are mostly liberal. Mostly negative. Mostly opposed to tax cuts. Mostly unwilling to give his president a break. Mostly interested in whipping up conflict. . . .

[…]

In the book, Fleischer criticizes Hearst columnist Helen Thomas for asking loaded questions. Here's what Thomas tells Kurtz:

"'The questions I asked should have been asked by 10 more reporters in the run-up to war, which proved that everything they said was not true.' She says Fleischer was not only a spokesman for the president but 'owed credibility to the American people. I'm sure he got mad at me. He had to defend what was indefensible, in my opinion.'"
Love her.