[NOTE: I'm leaving this post on top for awhile. Scroll down for new posts. And don't forget to blogroll Big Brass Blog!]
First, please note that the Dark Wraith has changed his URL to
www.dark-wraith.com
, so update your blogrolls.
Secondly, I'd like to introduce
Big Brass Blog
.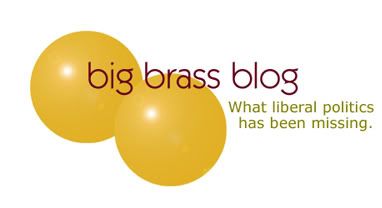 Big Brass Blog
is a joint effort started by fellow bloggrrl Pam of
Pam's House Blend
and myself—a group blog pulling together some of the best of the "unknown" bloggers, including the
Dark Wraith
,
Ms. Julien
, John at
Blogenlust
, and Linnet at
Looking at the Stars
, with a back-up crew including Mr. Shakes and Mr. Furious from Shakespeare's Sister.
Big Brass Blog
is dedicated to delivering a powerful, progressive message through a variety of voices. Our mission is this: to ensure that the issues often identified as "secondary" issues for the party-gay rights, women's rights, abortion rights, etc.-are given the same attention as those about which we are all concerned, such as preventing Bush's Social Security reform. Most importantly, even though our focus is on new ideas and resolute progressive principles, we plan to have a lot of fun.
We also intend to add other bloggers we love (you know who you are) and others we discover along the way, as we move forward. We're still partially under construction, as the template isn't friendly to low-res viewers, so if you're among them—I apologize; we're working on it.
I hope to see you all there.