Oh
just fucking great
:
The Equal Rights Coalition will play host to America's most notable homophobe in Fort Wayne on Sunday. The Rev. Fred Phelps, who runs the God Hates fags website and whose followers regularly demonstrate against LGBT rights has agreed to take part in a forum on gay rights.

Members of Phelps' Westboro Baptist Church in Topeka, Kansas - most of whom are family members - gained national notoriety when they protested outside the 1998 funeral for Matthew Shepard, the gay college student beaten to death in Wyoming.

The murder led to the play "The Laramie Project" in which Phelps is depicted. The award winning play will run for four days beginning Thursday at the Lincoln Museum in Fort Wayne.

Phelps and his followers plan to picket the museum and six area churches that he claims are tolerant of gays.

[…]

Rob Grayless, regional director of Indiana Equality said he hoped the forum would prevent a clash between the protesters and and counterprotests.

[…]

"We'll accommodate it if it's anywhere near reasonable," Phelps said. "It's just a wonderful way to show the contrast between the truth of God and the abomination of sin."
I'm so thrilled to know I'll be within the same state borders as the most loathsome collection of hateful pricks to ever ascend from the bowels of hell. I have to say I am tempted to question the sanity of inviting this group of fuckwits to take part in a forum on gay rights, considering they've made their position on gay rights abundantly clear: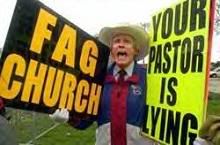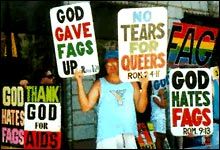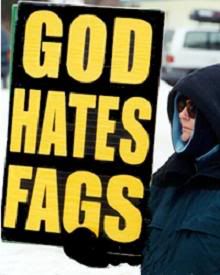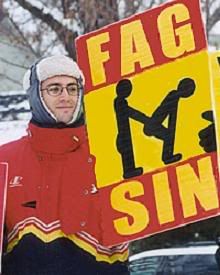 I can't imagine what these degenerates are going to add to what is meant to be a reasonable discussion of equality, but I suppose I will defer to Grayless' judgment. I just wouldn't be so sure that Phelps and his gang of merry harassers won't be completely disruptive during the forum and then still take to the streets in their usual obnoxious fashion.
In any case, it's nice to see that some Hoosier Christians are being vocal in their disdain for the despicable message spewed by the revolting Phelps:
The minister of one of the churches being targeted by the Phelps group called the scheduled demonstration a perversion of Christianity.

"One cannot hate in the name of God," said the Rev. Phil Emerson of Good Shepherd United Methodist Church.

"My great heartbreak is unchurched people in Fort Wayne will read this story and will say that's what it means to be Christian or that's what it means to be godly. There's nothing of God about this group, and I'm sorry they associate themselves with any Christian names."
I'm sorry, too. And I'm sorry that the LGBT community in Indiana will have to suffer the intrusion of this gang of venomous cretins.