It was recently requested that being perhaps the only blue blogger in the very red state of Indiana, I give my two cents on Senator Evan Bayh, who was one of the brave 13 voting against the confirmation of Condoleezza Rice. To be honest, because of
where
I live in Indiana, which is the northwest corner, I'm really part of suburban Chicago, and, combined with spending the ten previous years living in Chicago before I moved back to Indiana in '02, it means I tend to know more about Illinois' politics than I do about Indiana's. And frankly, Indiana politics hasn't offered much to care about if you're a liberal. (Remember Dan Quayle?) Until now…maybe.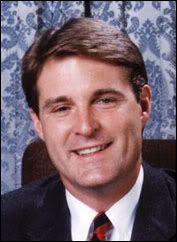 Evan Bayh in '08?
There are two things to keep in mind about Bayh in reading my assessment. One: his vote against Condi indicates almost surely that he intends to run in '08 (and it was, frankly, only a matter a time, as it's family tradition; his father Birch ran in '76 but lost the nomination to Carter). Two: He has been handily elected as both Governor and Senator on the Democratic ticket in Indiana, which, on election night, was the first state called for Bush on almost every channel, so red runs Hoosier blood.
Issues2000
categorizes Bayh as a Moderate Liberal Populist: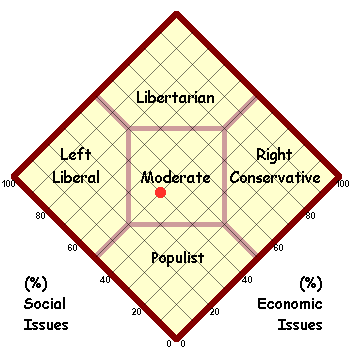 It's a fair assessment. The lowdown on Bayh is this: he's a very appealing centrist who is eminently electable. The question is whether he's the kind of Democrat we want to elect.
Handed '96's Democratic Keynote Address slot by Professor Emeritus of Centrism 101 himself, Bill Clinton, Bayh can play to both sides of the aisle. Overall, Bayh's voting reveals a near-perfect centrism. He's given rankings of:
75% by APHA, indicating a pro-public health record
74% by the LCV, indicating pro-environment votes
63% by CURE, indicating mixed votes on criminal rehabilitation
60% by the ACLU, indicating a mixed civil rights voting record
43% by the US COC, indicating a mixed business voting record
33% by CATO, indicating a mixed record on trade issues
33% by the Christian Coalition: an anti-family voting record (versus the 100% scored by Indiana's Republican Senator, Richard Lugar, or the 0% scored by John Kerry)
30% by SANE, indicating a pro-military voting record
26% by NTU, indicating a "Big Spender" on tax votes
His best records are on Education, Social Security, and Labor:
91% by the NEA, indicating pro-public education votes
90% by the ARA, indicating a pro-senior voting record
85% by the AFL-CIO, indicating a pro-labor voting record
Most notably (for liberals), Bayh's record is pretty spotty when it comes to abortion and gay rights. He voted for a partial birth abortion ban, though he believes it should be allowed in cases of danger to the mother, and, when Governor of IN, he indicated support for a 24-hour waiting period for abortions, but never proposed or signed one into law. He was also (tentatively) against a federal marriage amendment; I couldn't find any specific references, but I think it's safe to infer that he would opt for the standard Dem punt of supporting civil unions but not marriage.
Bayh's record speaks for itself; the "cons" for progressives are obvious. The pros for centrists, and progressives who believe a centrist is hell and gone better than Bush, are also obvious. He is, without question, an appealing candidate. In fact, an Indy Star article (that is currently not available online) reported that during Kerry's veep-selection process, Republican pollster Frank Luntz was asked to test the appeal of seven potential running mates. Bayh won hands-down (even beating John Edwards).
Are there any pros for progressives? Well, there's this: it's easier for someone who has been a left-leaning centrist to move further left without having his credibility (and motives) questioned, than a liberal to move center without looking like a schmucky opportunist. While Kerry had to tie himself into pretzels to try to explain his contrasting votes on the war (as his pro-war vote contrasted with his typically liberal record), Bayh easily voted no on Condi without seeming disingenuous. (Indeed, many were pleasantly surprised by it.) Voting no on Rice may well have been part of a political strategy geared toward an '08 run, but it also seems to have stemmed from a
genuine belief
that Rice did not deserve the confirmation.
I suspect Bayh is personally more liberal than his home state allows him to be if he wants to get elected. He'll be a guest of Stephanopoulos tomorrow, talking about his vote against Condi; if you're interested in seeing if Bayh has any true liberal credentials, and whether he's willing to flex them, tune in.