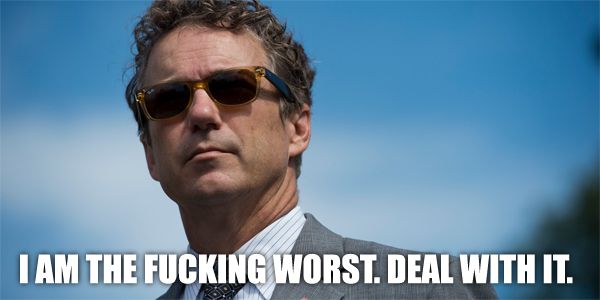 [Content Note: Racism.] Today's WORST CLOWN IN THE CLOWN CAR AWARD goes to Senator
Rand Paul
, who lectures #BlackLivesMatter activists, by way of Sean Hannity because OF COURSE,
that they should
change their name
and
their tactics: "I think they should change their name maybe—if they were All Lives Matter, or Innocent Lives Matter... But commandeering the microphone, and bullying people, and pushing people out of the way—I think that really isn't a way to get their message across."
First of all: Fuck off. Secondly: Fuck off. Third: If commandeering the microphone weren't a way to get their message across, then why the hell is every presidential candidate being asked about their movement and message, hmm? Finally: Fuck off.
In summation: Fuck off.
[CN: Racism] Following Gold Toilet Aficionado
Donald Trump
's ridiculous and indecent
attack on
journalist Jorge Ramos, former Florida Governor
Jeb Bush
said
at a townhall event
that "people in the press should be treated with more respect and dignity." Hahahaha I agree! Except I actually mean it!
Let's all bookmark that quote just in case WHY JEB ever holds office again and resumes treating the press with contempt as he did while governor of Florida, because accountability ain't his bag.
Blah blah Trump
says he won't
mount a third-party run. Who even cares. Because he was never going to mount a third-party run. If he doesn't get the nomination, he knows he can't win, so he wouldn't waste his time and money. It will stop being fun for Donald Trump the moment he actually has to work for it (and spend for it) and isn't getting loads of free press and every privileged wankstain in the multiverse stops drooling over how "hilarious" he is.
Meanwhile, Senator
Marco Rubio
says that Trump
will never be
the Republican nominee: "I don't believe Donald Trump will be our nominee. I think our nominee is going to be someone that embraces the future, that understands the opportunities before us, that's optimistic but realistic about the challenges before us." Wait—Hillary Clinton is going to be the Republican nominee?!
At the same campaign stop, which was held "outside a car service center" in Orford, New Hampshire (YOU'RE BURNING IT UP, RUBIO!), the Senator also had this shit to say about Trump and his HAT-BASED PHILOSOPHY: "There's another gentleman running for president whose slogan is Make America Great Again. And I understand what he's trying to say. But I would remind him that America is great. Ask yourself this question: Who would you trade places with? Would you rather be China? Would you rather be Brazil or India or anyone else for that matter? There's no nation on earth I'd trade places with. The issue's not that America isn't great. The issue is that America has the chance to be greater. And we're not fulfilling our potential."
The way these bozos talk! Honestly. Yes, correct, the issue is that the US has the chance to be greater (defined in ways with which Rubio would never agree, because his definition of "greater" is rolling back the clock on social progress and killing more people around the globe, but I digress), which literally has nothing to do with
competing with
other countries. But framing national greatness as a competition is the only way to satisfy nationalistic urges to chant "USA! USA!" while waving oversized foam fingers emblazoned with "We're #1!" so.
Pro-torture doc
Ben Carson
, pugilist
Chris Christie
, Joe McCarthy
impersonator
Ted Cruz
, corporate power-failure
Carly Fiorina
, real person
Jim Gilmore
, reasonable-by-comparison
Lindsey Graham
, professor of bible bigotry
Mike Huckabee
, nerdiest clown
Bobby Jindal
, "
moderate
"
John Kasich
, charisma void
George Pataki
, trainwreck
Rick Perry
, waking nightmare
Rick Santorum
, and Indiana dumpster diver
Scott Walker
continue to run for president.
[CN: Video autoplays at link] On the other side of the aisle, Vice President
Joe Biden
isn't sure that he has "the emotional fuel" to run for the White House: "We're dealing at home with...whether or not there is the emotional fuel at this time to run," Biden told members of the Democratic National Committee
on a conference call
. "If I were to announce to run, I have to be able to commit to all of you that I would be able to give it my whole heart and my whole soul, and right now, both are pretty well banged up."
I'm not a huge fan of Biden as a politician, never have been, but it breaks my heart how much he and his family have gone through. It's upsetting to me, even though I don't want him to run, to think that might be the reason he doesn't.
In other news, former Secretary of State
Hillary Clinton
says that using a private email server
wasn't the best decision
: "I know people have raised questions about my email use as secretary of state, and I understand why. I get it. So here's what I want the American people to know: My use of personal email was allowed by the State Department. It clearly wasn't the best choice. I should've used two emails: one personal, one for work. I take responsibility for that decision, and I want to be as transparent as possible, which is why I turned over 55,000 pages, why I've turned over my server, why I've agreed to—in fact, been asking to—and have finally gotten a date to testify before a congressional committee in October. I'm confident that this process will prove that I never sent, nor received, any email that was marked classified." All right then.
Senator
Bernie Sanders
makes his pitch
to the Democratic establishment
: "Sanders huddled with advisers at his home [on] Wednesday to chart what he describes as the second phase of a campaign that has exceeded all expectations but still lacks the infrastructure and support from the party elites that could help him compete with Clinton on a national level. He said he will issue a slew of detailed policy proposals, including for a tax system under which corporations and the wealthy would pay significantly more for initiatives that would benefit the poor and middle class, and will pour resources into voter outreach in early nominating states. The senator also will appear with other White House hopefuls this week at a meeting of the Democratic National Committee and will urge party leaders to embrace him as a candidate who can attract new voters and energy, just as President Obama did eight years ago." Good luck, Bernie! I hope that the Democratic elite changes their minds and suddenly welcome in a real way proposals to heavily tax corporations and the wealthy to fund a robust social safety net! That would be terrific!
Get a load of this fucking guy
: "
Lawrence Lessig
, the Harvard professor who is exploring a long shot presidential run, said on Tuesday that Democratic presidential candidate Bernie Sanders is 'running a campaign to win, not to govern.'" Hahahahahaha shut up, Lessig! This is the same guy who
is fixing to run
as a "referendum candidate" who "would remain in office just long enough to enact financing reform before stepping aside in favor of the vice-president." And he's accusing
Sanders
of running only to win but not to govern?! Okay, player.
Martin O'Malley
,
Lincoln Chafee
, and
Jim Webb
continue to run for president.
Talk about these things! Or don't. Whatever makes you happy. Life is short.