[Content Note: Transmisogyny; carcerality.]
Last week, I
mentioned
that Chelsea Manning was facing "indefinite solitary confinement" after being charged with possessing contraband, including magazines, a novel, and a tube of expired toothpaste.
Manning
has now been found guilty
on "four disciplinary charges and given 21 days of recreational restrictions for breaking military prison rules."
Compared to indefinite solitary confinement, 21 days of recreational restrictions seems like a win. But that's not the whole story.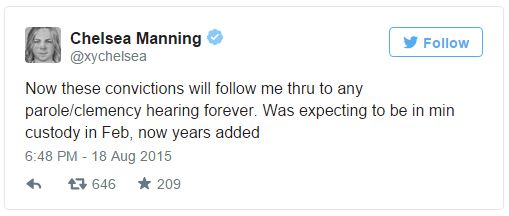 Manning was convicted "during a four-hour, closed-door disciplinary hearing without legal representation," following a reported denial of access to the prison law library. She had no representation and no ability to sufficiently represent herself. And now the landscape of her incarceration looks fundamentally different.
"When I spoke to Chelsea earlier today she wanted to convey the message to supporters that she is so thankful for the thousands of people from around the world who let the government know we are watching and scrutinizing what happens to her behind prison walls," [Manning's attorney, Chase Strangio of the ACLU] said in a statement to Vanity Fair. "It was no doubt this support that kept her out of solitary confinement.

"But the fact that Chelsea had to face today's four-hour Disciplinary Board without counsel and will now be punished for daring to share her voice sets a concerning precedent for the remaining decades of her incarceration."
The military refuses to release information on the closed-door disciplinary hearing, citing the Privacy Act of 1976. They're hoping that headlines about her "21 days of recreational restrictions" will make the attention on their profound mistreatment of Manning go away, because people won't understand that the conviction itself, and the vast repercussions attached to it, are the real punishment.
A punishment that does not fit the crime of possessing contraband, but certainly does fit a government bent on harming a transgender women refusing to be silent about how the military is treating her during her incarceration.