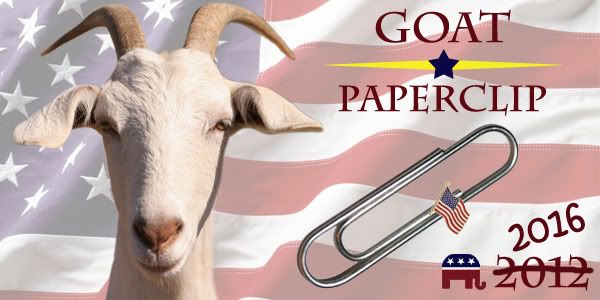 Goat|Paperclip
was a popular ticket
in 2012
(with
nearly
everyone), and I'm happy to announce that my top secret sources have informed me they are fixing to announce another run at the White House. Reportedly, they will announce their announcement to announce their official announcement to run later this week. You heard it here first!
In other primary news, here's what happening on the Democratic side of the aisle:
Former Governor of Maryland
Martin O'Malley
is fixing to mark a path to the White House
straight through the NRA
: "How many acts of violence do we have to endure as a people before we stand up to the congressional lobbyists of the National Rifle Association? How many more Americans have to die?" He also, to be clear, spoke about white supremacy. And while I'm not on board framing the AME Shooting as a gun control issue, I am pretty excited to see a Democratic candidate who is willing to shit all over the NRA!
Senator
Bernie Sanders
, who's now been
given permission to use
"Rockin' in the Free World" and presumably understands its meaning unlike
some dipshits
, drew a crowd of 5,000
to an event in Denver
. That's 5,000 times the number of attendees pulled by
some other dipshits
!
Former Secretary of State
Hillary Clinton
has
just hired
Betsaida Alcantara, a senior advisor to Julian Castro at the U.S. Department of Housing and Urban Development. Alcantara, who will serve as Clinton's director of media planning, is "the fourth high-profile Latina hire by the Clinton campaign, joining national political director Amanda Renteria, Nevada director Emmy Ruiz, and director of coalitions press Xochitl Hinojosa." She's also leading
literally everyone
in
pointlessly early polling
.
Former Republican
Lincoln Chafee
attended a Flag Day picnic
on June 14
at the Sandwich, New Hampshire, home of Richard and Ruth Stuart on the banks of Squam Lake. That sounds fun!
* * *
On the Republican side of the aisle, I will just reiterate that there are now TWELVE PEOPLE RUNNING.
Twelve.
And the election is still a year and a half away. Which means more people will run. More than the TWELVE already running.
Anyway. Here's the baker's dozen of bozos, in alphabetical order, and what they're up to lately, besides the constant non-news of their all being comprehensively terrible at all fucking times:
Former Governor of Florida
Jeb Bush
published
a piece
on Medium about how President Obama isn't taking cybersecurity seriously and proposes we be more like Estonia. Sure.
Dr.
Ben Carson
, as
mentioned
, thinks his GOP rivals are racist cowards,
basically
. Which is accurate.
[CN: Homophobia] Senator
Ted Cruz
vows to
keep fighting
against same-sex marriage even if the Supreme Court legalizes it, because he is terrific, and also
may torch
the President's trade deal at the last minute by switching his vote, because he loves seeing his name in the press more than anything.
[CN: Misogyny] Corporate power-failure
Carly Fiorina
still
can't stop talking
about Hillary Clinton, making her case that she deserves to be included in the GOP debates because, as the only woman in the GOP field, she "is in a unique position to attack the likely Democrat nominee, Hillary Clinton." Note that the argument is about attacking Clinton, not Clinton's
policies.
Because of course it is.
Senator
Lindsey Graham
has
changed his mind
about the Confederate flag, because PRINCIPLES!, and this headline definitely says SHIFTS.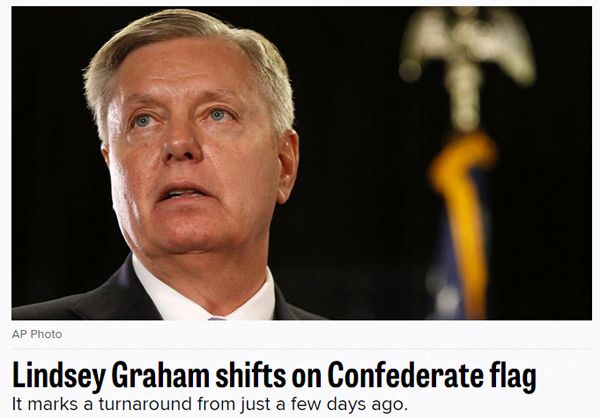 [CN: Homophobia; racism; appropriation] Professor of Bible Bigotry
Mike Huckabee
just
continues to
fucking outdo himself in the WORST CLOWN IN THE CLOWN CAR department: "Yesterday, Mike Huckabee sent a letter to Religious Right leaders warning that a ruling in favor of marriage equality from the Supreme Court would be just as 'backwards' and 'broken' as rulings which 'rationalized the destruction of human life, defined African Americans as property and justified Japanese-American internment camps.' 'I refuse to sit silently as politically driven interest groups threaten the foundation of religious liberty, criminalize Christianity, and demand that Americans abandon Biblical principles of natural marriage,' Huckabee continued. 'I will fight to defend religious liberty at all costs.'" This fucking guy.
Former Governor of New York
George Pataki
presumably continues to be a human being who is running for President of the United States, but I am not sure since
this
appears to be the only thing written about him in about a month. Cool campaign, George Pataki! You're doing GREAT!
Senator
Rand Paul
something something
flat tax
omg shut up.
Former Governor of Texas
Rick Perry
just
continues to say
the most incredibly stupid things: Fox News host Chris Wallace asks him, "More than 1 in 5 Texans didn't have health coverage, and yet you refused to set up a state exchange under Obamacare; you refused to expand Medicaid. I mean, is that looking out for the little guy when 21 percent of Texans didn't have health insurance?" And Perry responds, "That's not how we keep score. I think it's a fallacy to say access to health care is all about insurance." YOU ARE A WRECK RICK PERRY GO TAKE A NAP.
Senator
Marco Rubio
is apparently
regarded as
the only meaningful challenger to Jeb Bush. (At least as long as Scott Walker isn't in the race.) I mean, I guess. His policies are pretty much the same as every other one of these bozos', but he does manage to seem less offensive about it most of the time.
[CN: Homophobia] Sweatervest aficionado
Rick Santorum
, along with his BFF Huckabee, has
signed a pledge
authored by Texas pastor Rick Scarborough that describes same-sex parenting as "unconscionable and destructive" and a threat to children's "security, stability, and future." Fuck fuck fuck off.
[CN: Racism; cartoon violence] Billionaire buffoon
Donald Trump
is being
sold in piñata form
after his
shitty comments
about Mexican people in his campaign announcement speech. Something something free market, right Trump?
Phew! That's everyone! I did it! *takes victory lap*
Now if you'll excuse me, I have to go take a nap for one thousand years.
Talk about these things! Or don't. Whatever makes you happy. Life is short.