"No one—whether government or corporate—should control free open access to the Internet."
—Federal Communications Commission Chair Tom Wheeler today, after the FCC "
approved the policy known as net neutrality by a 3-2 vote
."
The policy helps to decide an essential question about how the Internet works, requiring service providers to be a neutral gateway instead of handling different types of Internet traffic in different ways — and at different costs.

..."The landmark open Internet protections that we adopted today," Wheeler says, should reassure consumers, businesses and investors.

Speaking at a news conference after the vote, Wheeler says the new policy will "ban blocking, ban throttling, and ban paid-prioritization fast lanes," adding that "for the first time, open Internet rules will be fully applicable to mobile."
"Today is a red-letter day," said Wheeler. YAYAYAYAYAYAYAY!!! *throws confetti*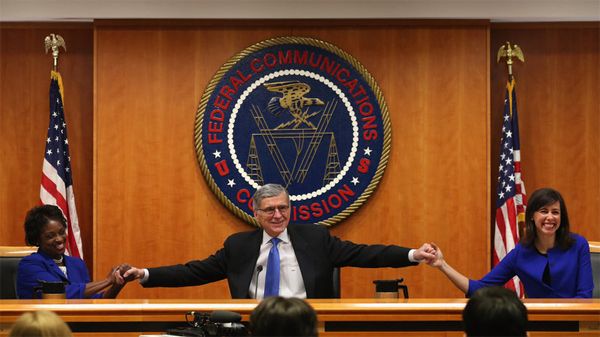 At the start of a meeting today to decide the issue of net neutrality, FCC Chair Tom Wheeler,
center, holds hands with FCC Commissioners Mignon Clyburn, left, and Jessica Rosenworcel
at FCC headquarters. [Mark Wilson/Getty Images]