[Content Note: Sexual objectification.]
Halloween season seems to come earlier every year—and so does my annual Inappropriate Halloween Costumes post, whether it's costumes that
uphold the rape culture
; costumes that
are just a shitty ethnic stereotype
; costumes that
appropriate people's identities
; or some other gross manifestation of Othering for which Halloween is used an excuse.
This year's entry?
Yet another
in an
ongoing series
about how women's Halloween costumes have to be "sexy" versions of whatever. You can't just be a nurse—you've got to be a
sexy
nurse! You can't just be a witch—you've got to be a
sexy
witch! Etc.
(Unless you're fat. Then do not try to be sexy. If you're a fat woman,
you're the costume
.)
Behold:
Sexy Frozen costumes
.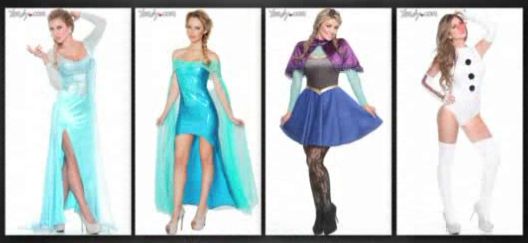 While little girls will be trick-or-treating in Disney-trademarked Anna and Elsa costumes this Halloween, adult women now have the option of showing more skin while dressed as adult interpretations of the characters.

...Yes, even Olaf, the snowman voiced by Josh Gad, has been given a sexy makeover, complete with a fake carrot nose, thanks to the "Funny Snowman" costume.
I don't even.
One year, I asked Deeks what I should be for a Halloween party, and he immediately replied, "Sexy chupacabra." Which made me laugh for one million years, because it is the perfect commentary on the absurdity that is Halloween costumes for adult women.