While our Republican Attorney General Greg Zoeller, who is the almighty worst, anxiously awaits to hear whether the court will grant him a stay on the ruling that legalized same-sex marriage in Indiana, MARRIAGES ARE GO.
Virtually every county in the state is now issuing same-sex marriage licenses and performing weddings. Right now, as I write this, I keep stopping to exchange texts with a friend who's waiting outside the county courthouse. It's an incredible day! It has been an incredible week!
Because people are people, there has been some (although a lot less than I expected) hand-wringing in local media and on social media about the decision. Still, in the year of our lord Jesus Jones two thousand and fourteen, there are people who are asking, with apparent seriousness: "What about the children?"
Well, some of the children are pretty goddamn happy that their parents are finally allowed to get married.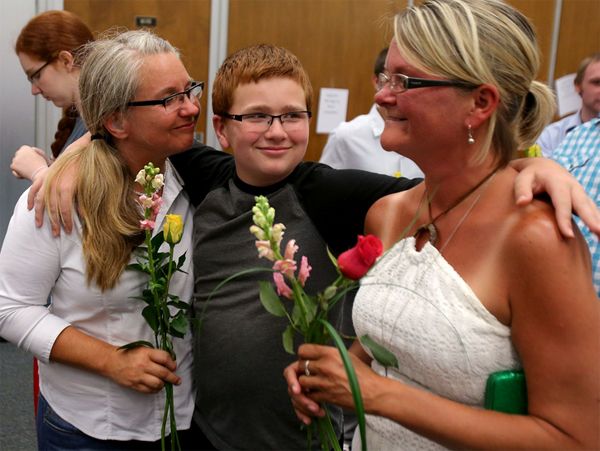 Aiden Murphy, 11, smiles as his mothers Kimberly Trojan, left, and Jackie Cornell wait in a large crowd for their marriage license inside the City County Building, Wednesday, June 25, 2014. [Brent Drinkut/The Star]
I'm pretty happy their parents are allowed to get married, too.