This is your semi-regular thread
in which fat women can share pix, make recommendations for clothes they love, ask questions of other fat women about where to locate certain plus-size items, share info about sales, talk about what jeans cut at what retailer best fits their body shapes, discuss how to accessorize neutral colored suits, share stories of going bare-armed for the first time, brag about a cool fashion moment, whatever.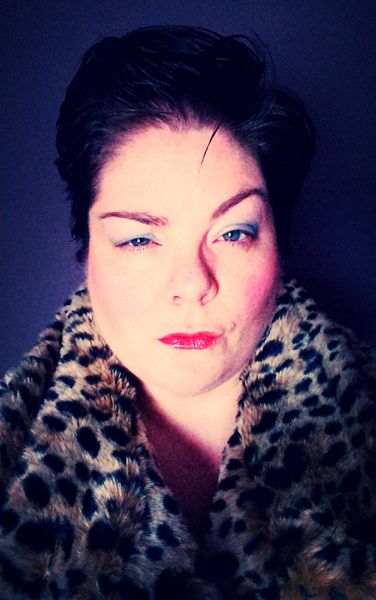 Faux leopard coat by Torrid;
Luminize Crème Blush by Too Faced;
Shattered Eye Shadow by Urban Decay.
So, I'm really excited about this coat for a bunch of reasons, but here are the top three: 1. It looks like something Divine would wear. A+. 2. It fits
really
well across the shoulders (always a problem area for me with coats) and has three-quarters sleeves, so my short arms aren't swimming in fabric. 3. It was originally $108, and I got it on sale for $30! THE BEST.
The thing is, I don't buy a lot of clothes, but I shop for clothes a lot. I find specific pieces I like, and then I wait and wait and wait and watch them until the price goes down, or until the site's having a good sale, and then I snatch them up one at a time.
It's kind of a tough strategy, because since I am a size 24-28, depending on the garment and the retailer, I'm at the top size of many plus-size lines, and those sizes tend to sell out more quickly. So there are times that my size runs out before the price comes down on expensive (for me) items.
But I am a blogger on a budget, fatsronauts! And, to be honest, even though sometimes I miss out on items I'd like to have, it makes the times I do get an item that I love and fits and makes me feel good all the sweeter.
Anyway.
Have at it in comments! Please remember to make fat women
of all sizes,
especially women who find themselves regularly sizing out of standard plus-size lines, welcome in this conversation, and pass no judgment on fat women who want to and/or feel obliged,
for any reason,
to
conform to beauty standards
. And please make sure if you're soliciting advice, you make it clear you're seeking suggestions—and please be considerate not to offer unsolicited advice. Sometimes people just need to complain and want solidarity, not solutions.