by Shaker Hallelujah_Hippo
[Content Note: erasure, dehumanization, predatory misogyny, commodification of women's bodies, violence against women]
I was working on an art project recently (a birthday card for my sister centered around an antique postcard) and flipped through one of the many catalogs I keep around in my art stash exactly for these projects. The catalog happened to be the autumn issue of
Design Toscano,
which specializes in high-end home and garden décor.
Within the 65 pages displaying their wares (including the front and back cover as well as a special 12-page section, containing the 2-page order form, between pages 26 and 27; so that's 63 pages of real estate all together), there were 8 unique examples (with one repeated on the front cover) of faceless, dismembered, or mutilated women presented as sexy, erotic, and beautiful. One page had three examples by itself.
Images with descriptions are below the fold.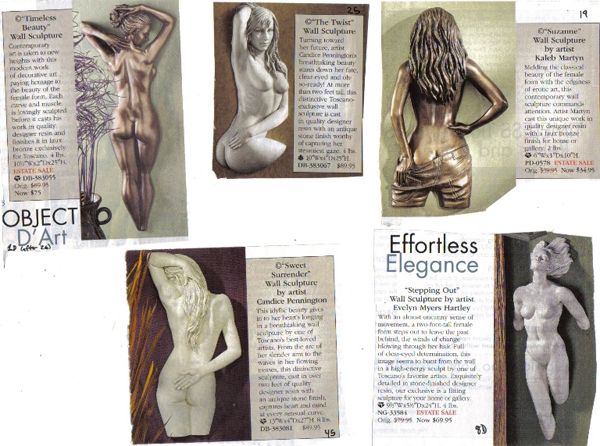 [Click image to embiggen. Five separate examples of relief wall sculptures depicting fully naked or partially undressed women. The numbers in pen are the page numbers from the catalog.]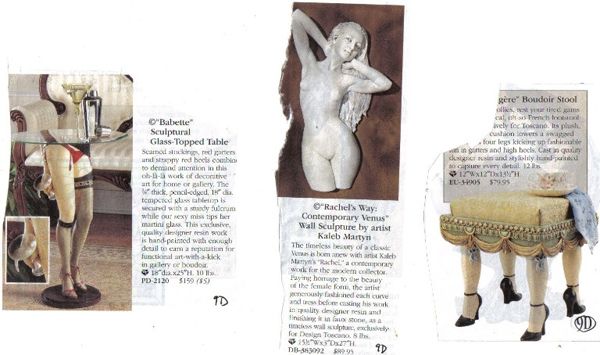 [Click image to embiggen. Three images from the same page of dismembered women presented in sexualized ways.]
The footstool struck me as some serious serial-killer level trophy shit (it was featured not just on a page with two other examples, but also on the front cover). The fully nude bronze sculpture in the first picture struck me as creepy because her feet are missing (and not in a way that suggests she is merely a woman with an atypical form); it's as if the artist rendered all the 'desirable' parts and then just discarded the rest. The table struck me as a purposeful sexualization of date rape ('she's drunk, spilling her drink, and her stockings are falling down; isn't she sexy!').
This is a pattern that moves beyond selling women's bodies as sex objects and sells sex objects made of only pieces of women's bodies. It's like women are not just objects themselves, but they are inanimate collections of separate parts with extraneous bits that can be pared down and discarded for the sake of focusing on only the sexy pieces. As if they are pieces of art that exist in vacuum and can be altered or reduced at the whim of the beholder. These are not human beings, they are objects to be modified and sold for maximum titillation (of the presumed straight male viewer who sees women as inanimate collections of pieces to be rearranged at will).
These are literally
pieces
of women's bodies being sold as (literal) sex objects. I'm out of words at this point to express how disturbing, how unsettling, how utterly dehumanizing I find this collection of bodies (and body parts) for sale. I wonder how many people (and specifically men) buy these as loving adornments for their houses. I wonder how many people I walk by on the street everyday see my face, my feet, my hands, the front or the back of me, all of my body above the knee as nothing but
surplus flesh,
as a waste of material between them and their sexual gratification.
Liss has previously written about other examples of
Disembodied Things
and explained at length why these things are so terrible.
(Additionally, it did not escape me that these are all thin, young, ostensibly white women being presented as the highest form of erotic beauty to the exclusion of all others.)