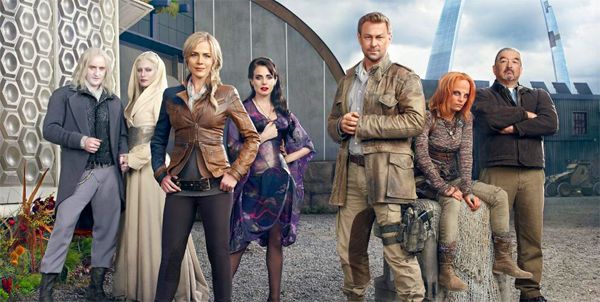 Is anyone else watching the series
Defiance,
which is in its first season on Syfy? Iain and I have been watching it, and, although it's still finding its stride, it's compelling enough that we've kept watching it. The basic premise is the struggle for post-apocalyptic survival in a town called Defiance (formerly St. Louis) after Earth has been terraformed and humans and aliens are living together, or trying to. Within the town, there are power struggles and various intrigues, set against the backdrop of pressure from a meddling federal alliance and some larger nefarious plot being orchestrated by people presumed to be allies to the leaders in Defiance.
There are a couple recognizable faces from
Lost
(Fionnula Flanagan and Grant Bowler) and a couple from
Dexter
(Julie Benz and Jaime Murray), as well as Gale Harold from the US
Queer as Folk
and Graham Greene, who's been in a million things.
The show references/borrows pieces from
Star Wars
(especially in its basically-a-Western style),
Battlestar Galactica,
and
Dr. Who,
among others, but it has its own aesthetic, which is coming more clearly into focus as the first season continues.
It's got a pretty typical structure for similar series, in that there's a long plot arc, but each episode contains its own mini-drama which gets resolved by the end of the episode (usually). The balance between the long and short arcs feels off to me at this point; that's definitely the weak point of the show for me. And there are
a lot
of characters to keep up with, which is probably part of the problem in achieving a good story balance. Among those many characters, however, are a lot of interesting female characters, and it passes the Bechdel Test all over the place.
Anyway. Anyone else watching and want to talk about it? Since I left out spoilers for the main page post, please be sure to mark spoilers in comments, so anyone who wants to skip them can.
Also: Anyone playing the video game?