[Content Note: Racism; violence; stalking.]
The AP
reports
that the defense team for George Zimmerman, who stalked and killed teenager Trayvon Martin, has released photos and texts from Martin's cell phone that they are hoping to be able to admit as evidence in trial to smear the victim:
Data released Thursday by the defense from slain Florida teenager Trayvon Martin's cellphone includes texts with a friend about fighting, smoking pot and being forced to move out of his mother's house because of trouble at school, as well as photos of a gun and what looks to be a potted marijuana plant.

A hearing next week will decide if the information can be used at the trial for George Zimmerman, who is charged with fatally shooting the unarmed 17-year-old last year during a confrontation at a gated community in Sanford. Prosecutors want the negative evidence omitted, but Zimmerman's defense attorney said if they try to portray his client as the antagonist and Martin as the victim, he wants to show the jury that Martin has talked about fighting before.

"If they had suggested that Trayvon is nonviolent and that George is the aggressor, I think that makes evidence of the fighting he has been involved with in the past relevant," said Mark O'Mara.

...The photos released by Zimmerman's defense team also show Martin blowing smoke and extending his middle finger to the camera.
Well, if weed, inappropriate texts, and photos of flipping the bird are now evidence of being so violently dangerous that a random stranger is justified in murdering you, I am in
real trouble.
Except, of course, I'm not in real trouble, because I'm not a teenage black boy who will be racially profiled, stalked, and murdered by a racist vigilante for walking down the street carrying iced tea and Skittles, and then my very common habits used to suggest I fucking deserved it, as if there could even
be
another "aggressor" besides the armed shithead in the SUV who followed and harassed and provoked and ultimately killed a kid in direct contravention of the police's request to stand down.
I know defense attorneys have a job to do, but find a goddamn way to do it without victim-blaming that entrenches the very prejudices and stereotypes that filled your client's belly with violent hatred in the first place.
I also know the AP's got reporting to do, but "negative evidence," seriously? I'll also note that the lede's "being forced to move out of his mother's house because of trouble at school" is clarified five paragraphs later as: "In the text messages, Martin tells a friend that his mother has told him he needs to move in with his father since he was caught skipping school." Huh. That sounds a lot less vaguely incriminating. Which I guess is why it didn't make the opening paragraph in this story about the "negative evidence" against totally typical teen Trayvon Martin.
Some of the headlines given to this AP story in various news outlets double-down on the "negative evidence" angle, but
Huffington Post
takes the fucking cake for this teaser: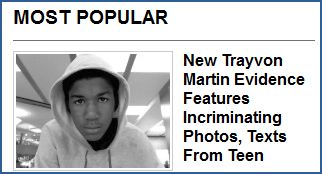 Fuck you, HuffPo. Trayvon Martin isn't the one on trial here.
Trayvon Martin could have been the worst kid on the fucking planet. Or he could have been an angel. Or he could have been a dope-smoking, class-skipping, bird-flipping kid, who got into the occasional scuffle—that is, somewhere been the worst and the best, like most of us. It doesn't fucking matter. All that matters is that,
that day,
he was an unarmed kid who ended up dead care of a gun in the hands of a vigilante who profiled him, in total disregard for who he actually was.
[H/T to Shaker StarGlory.]