A new pope has been chosen and will soon be named! MORE ON THIS EXCITING DEVELOPMENT ABOUT WHO WILL BE CRAWLING UP IN ALL THE VAGINAS AND DENIGRATING HOMOSEXUAL RELATIONSHIPS AS ADDITIONAL INFORMATION BECOMES AVAILABLE!
UPDATE 1:
Here is the actual white smoke.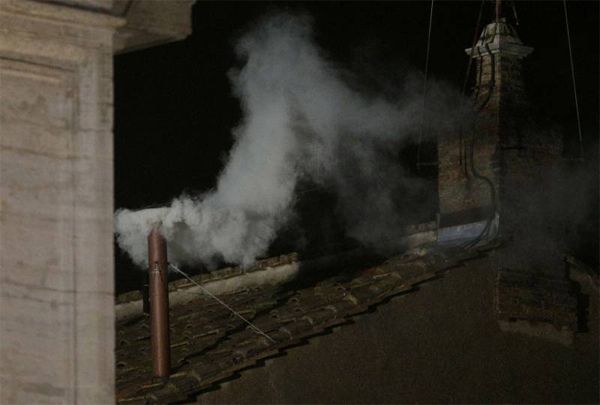 White smoke rises from the chimney above the Sistine Chapel in the Vatican, indicating a new pope has been elected, March 13, 2013. White smoke rose from the Sistine Chapel and the bells of St. Peter's Basilica rang out on Wednesday, signaling that Roman Catholic cardinals had ended their conclave and elected a pope to succeed Benedict XVI. [Max Rossi/Reuters]
UPDATE 2:
While we await official word of the next pontiff, I will
again
make the observation that I really wish I didn't have to give a fuck about the pope, and hate that I am nonetheless obliged to care, because of the persistent outsized influence of the Catholic Church.
UPDATE 3:
Alison Rose wins the internetz:
Have we decided yet if it's feminist or not for the pope to change his name?

— Alison Rose (@alisonrose711) March 13, 2013
UPDATE 4:
And the new pope is...Cardinal Jorge Mario Bergoglio from Argentina! Who I believe is a Jesuit. More info to come...
UPDATE 5:
The new pope "
has taken
the name of Francis and was not considered to be one of the front runners."

[Video Description: Pee-Wee Herman saying, "FRANCIS!"]
UPDATE 6:
Here is Pope Francis:
UPDATE 7:
Shaker ambivalentacademic posted the following
in comments
(which I am sharing with hir permission):
Ooh, I got kind of excited about Jesuit (the individual Jesuits I have know via my own personal experience have been pretty progressive to a man) and that he's taking the name Francis (surely the pantsless protester of greed has to be a good sign?)...then I read this:

"Bergoglio, a Jesuit, has affirmed church teaching on homosexuality, contraception and abortion and is considered to be among the most conservative in Latin America."

*sadface*
Which was my reaction almost exactly:
I was intrigued that Francis was a Jesuit, til I read that he's basically a terrible one. Whoops! I loved me some radical Jesuits at Loyola.

— Melissa McEwan (@Shakestweetz) March 13, 2013
Here's some fun information from
his Wikipedia entry
:
Cardinal Bergoglio has invited his clergy and laity to oppose both abortion and euthanasia.

He has affirmed church teaching on homosexuality, though he teaches the importance of respecting individuals who are homosexual. He strongly opposed legislation introduced in 2010 by the Argentine Government to allow same-sex marriage, calling it a "real and dire anthropological throwback." In a letter to the monasteries of Buenos Aires, he wrote: "Let's not be naive—we're not talking about a simple political battle; it is a destructive pretension against the plan of God. We are not talking about a mere bill, but rather a machination of the Father of Lies that seeks to confuse and deceive the children of God."

He has also insisted that adoption by [same-sex parents] is a form of discrimination against children. This position received a rebuke from Argentine president Cristina Fernández de Kirchner, who said the church's tone was reminiscent of "medieval times and the Inquisition."
HA HA HE SOUNDS AWESOME. Way to go, Catholic Church leadership! You've done it again!