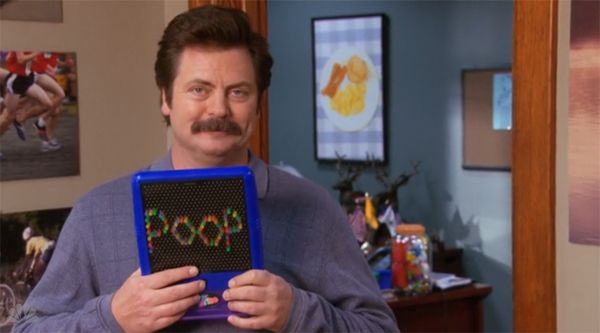 "And I got a Lite-Brite that I got from Andy."
(Spoilers are dumpster diving herein.)
Oh,
Parks and Recreation.
How I love you when you give me an episode like this one! Let's start with the title of the episode: "Women in Garbage." WOMEN IN GARBAGE! Did you write this episode just for me? Thank you!
Ron and Diane love each other! Jerry's giggle! Chris is LITERALLY so confused! Everyone is such a great dunker! Ann is the best! And ALL THE FEMINISM!
There were a lot of great moments for just about everyone this week, but I was especially happy with all the neat moments for and about the ladies. I loved that Diane was the super-chill mom who reacted to her daughters' cutting their hair in a way that didn't make Ron and Ann feel shitty, and also didn't make her daughters feel shitty. I loved that Ann found a new rapport with kids via her professional expertise. I love that Leslie and April won the day, in a truly feminist triumph.
If you watched this episode and thought "I bet Liss is blubbing her stupid face off at this amazing scene of the women from the shelter moving the refrigerator with Leslie and April," YOU WERE CORRECT!
Other things!

"Leslie, you'll never land a beau with that domineering tone."

"No need—my only plan today was to buy Skittles."

"What? I love garbage."

"I've been a baller since birth. Now I'm an athlete."

"Google Earth—always taking pics."

"We are not leaving until this symbolic feminist obstacle is loaded onto that truck of women's advancement."
All the swoons. Discuss!