by Shaker Mod aforalpha
[Content Note: Racism; othering.]
About once a year, in celebration of the existence of cocoa butter and taste buds, I order a couple bars of vegan white chocolate. This is a Big Deal. It's a big deal because it involves shipping & handling and possibly cold packs.
I waited until December this year, hoping to save some money on the cold packs and have some lovely, lovely candy to enjoy during finals, but my favorite store was sold out. No worries, I'll try another. I immediately thought of Food Fight Grocery in Portland, OR. It's an all vegan grocery store that I may or may not have fantasized about playing supermarket sweep in. (Don't judge me.) I pulled up their online storefront page, typed "white chocolate" into the search and found this: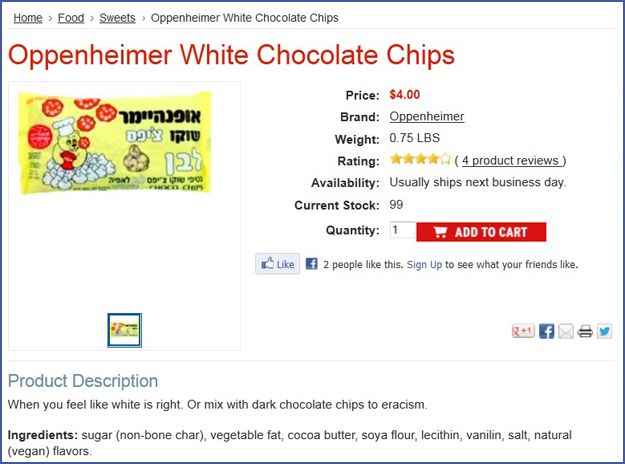 "When you feel like white is right. Or mix with dark chocolate chips to eracism."
I read that and I didn't want candy anymore. I wanted Alka-Seltzer. And equality.
There are so many things wrong with those two sentences, I hardly know where to begin. I think maybe the place to begin is a reminder that there are way too many people in the state of Oregon who do feel like white is right. The Southern Poverty Law Center lists
12 white supremacist hate groups
in the state of Oregon.
You know, I
only
like white chocolate. You know what I don't like? What I find completely and utterly abhorrent? The ideologies of all of those hate groups. And
all of the actions in the 11 pages of hate incidents
(racially motivated or otherwise) reported to law enforcement in Oregon from 2003-2012. That someone would make a joke about my candy preference being about white supremacy, eliminationism, and, in my case, self-hatred, isn't humor—it's racism.
This product description further makes light of institutionalized racism and racial violence by presenting white supremacy as two equally valid options. They're just preferences! Today white chocolate macadamia; tomorrow triple chocolate chunk. It's not like
people die
because
of this
or
anything
.
And, while we're on the subject, I am not a dark chip. Marginalized people aren't mix-ins. Society isn't some sort of make-your-own-sundae bar. "Hmm, this board of directors tastes a little racist." And trust, adding a couple people of color is not enough to...eracism. Almost certainly the person responsible for this gem of a product description is someone who counts POC among hir friends (or perhaps "friends"). Perhaps zie is hirself a person of color. And yet.
No, I am officially done with people referring to people, especially people of color, as food. No chocolate, mocha, caramel. No "you look good enough to eat." People are not food. And yes this product description refers to white people as a baking product, too, but in a culture with a long history of dehumanizing and othering people of color, referring to people of color as food only serves to reinforce the idea of POC as existing for the benefit and pleasure of white people.