[Content Note: Gun violence.]
Former Democratic Representative Gabrielle Giffords, who was shot at a public event
in January of 2011
, made this opening statement at the Senate Judiciary hearing on gun violence this morning:
Okay. Thank you for inviting me here today. This is an important conversation—for our children, for our communities, for Democrats and Republicans. Speaking is difficult, but I need to say something important: Violence is a big problem. Too many children are dying. Too many children! We must do something! It's [sic] will be hard, but the time is NOW. You must act! Be bold; be courageous. Americans are counting on you! Thank you!
Talk about brave women.
One of the most important things about Giffords showing up and speaking is that she is a reminder that statistics about gun deaths do not tell the whole story. Giffords survived.
She survived.
But she is forever changed. Her halting speech compels us to remember that gun violence is not just about those who die, children and adults, but about those who live, too.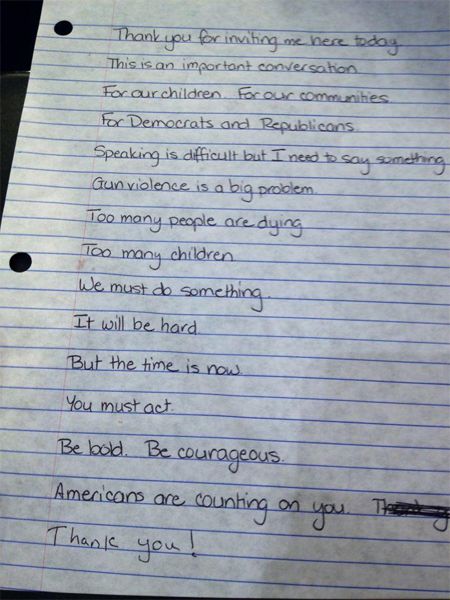 Giffords' handwritten remarks, from which she was reading. [Via TP.]
* * *
Meanwhile...
LaPierre says gun owners everywhere were "torn to pieces" by what happened at Sandy Hook. Poor choice of words, sir.

— jennifer bendery (@jbendery) January 30, 2013
While a member of congress rhapsodizes about owning a murder machine, there's been another multi-victim shooting, in Phoenix this time.

— Amadi (@amaditalks) January 30, 2013
News of shooting in Phoenix interrupts news of shooting in Alabama interrupts news of gun hearing in DC

— Juliet Lapidos (@julietlapidos) January 30, 2013
Inaugural girl shot in Chicago, madman shoots school bus driver in AL, GA man kills driver for pulling into driveway, office shooting in AZ

— Eric Boehlert (@EricBoehlert) January 30, 2013
There are no words.