What—did you think James Franco
wasn't
going to take time off from doing every single other thing ever, all of them, ALL OF THE THINGS, to
publish a book of poetry
? You're so weird.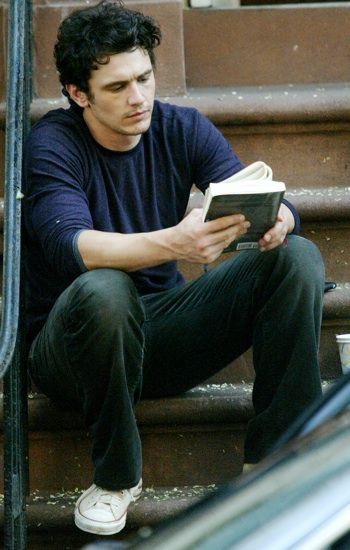 Not content with conquering the acting world, the musical world, the directing world and the art world, James Franco is continuing his bid for world domination with the news that he is set to publish his first poetry book.
Note: James Franco has already published
a short story collection
in a bid to take over the publishing world. JUST FOR THE FRANCO RECORD.
Ideally suited to the world of poetry – he has an Master of Fine Arts degree in poetry from Warren Wilson College in North Carolina, and played Allen Ginsberg in the film Howl – Franco has been signed by small Minnesota publisher Graywolf Press for his debut collection, Directing Herbert White. The poems will be published in April 2014.
That is one month before my 40th birthday. Thanks, James Franco!
Graywolf poetry editor Jeffrey Shotts described Franco's poetry as "a series of portraits of American successes and failures from within Hollywood … But they are also smart and highly aware notes of caution of what can happen when the filmed self becomes fixed and duplicated, while the ongoing self must continue living and watching."

...Franco also published his first poetry chapbook, Strongest of the Litter, earlier this autumn. Described as "thoroughly beautiful and spare", the poems "have the texture of contending angles", according to their publisher Hollyridge Press. "I'm a raging Kowalski whose/ Temper can be measured by/ How little I can give./ How abusive my reticence," writes Franco.
Coming soon to a Kindle near you. Because James Franco.
[H/T to Shaker Beth_in_Mpls.]