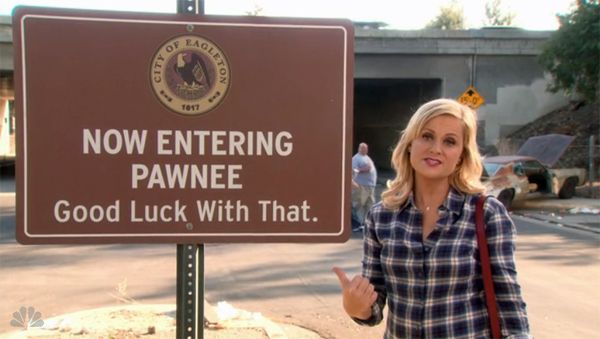 Eagleton! *shakes fist*
(Spoilers are frolicking in pocket parks herein.)
This was a weird episode for me, because I didn't love the whole park arc, AND I never love the episodes where everyone is all split up. (Plus, I just didn't buy that Leslie wouldn't have found a way to be part of Tom's store launch.) But that said, there were a lot of funny lines, it gave me one of my biggest laughs from any episode ever (I'll come back to that), and I loved some of the sweet, subtle peeks into relationships between characters: April gently nudging Andy forward; the gang raising money for Tom; Ron helping out Chris by teaching him woodworking. So: MIXED BAG!
(But a mixed bag from Parks & Rec is still about a million times better than pretty much any other show on TV, lol.)
Here are other things!

"Your show last week on dolphin lactation was just riveting radio."

"Worm Park. I'm Guilty."

"Much like women in '90s stand-up comedy routines, Tommy be shoppin'. … So if you see a 14-year-old kid wearing a Louis Vuitton cravat, you know who to thank: Me. And Louis Vuitton—for making some dope-ass cravats."

"Chris gave me this great job as a weekend security guard at City Hall. Only one problem: It's a terrible job."

"Leslie, look what Reston commissioned from the balloon artisan—it's
us
!"

"Say what you want about Pawneeans, but we
never
give up!" "We have a mural called The Many Surrenders of Pawnee."

"I think what's important is that we all had a goal, and we achieved it." "So you like the place?" "Oh no. It's quite terrible."

"If there were more food and fewer people, this would be a perfect party."

"Wow, you made those losers very happy."

"I've never met two people more passionate about their hometown." "Oh, I'm actually from Minnesota." "Why do you know so much about Pawnee?" "Well, I'm in love with a woman from here—a strange, passionate, goofball of a woman."

"You were in the FBI."

"I hate all of this. Which probably means it's good for your business."

And this, which made me laugh SO HARD (I must've watched it 12 times): "How are there palm trees here?" "Well, Eagleton lies on top of a hot spring, which creates a micro-climate zone. We are, uh, heh, truly blessed."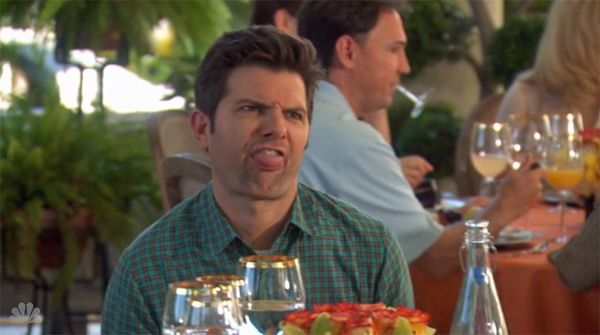 Amazing. Adam Scott is a national treasure.
Discuss.