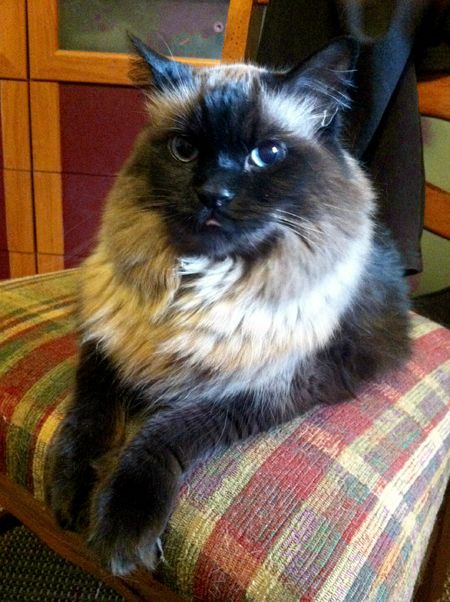 Tilsy
We are coming up on ten years since we adopted Matilda. I don't remember what day it was exactly, but it was either right before or right after Christmas 2002. She was a kitten, about 13 weeks old.
I used to have pictures of her as a wee thing, but the disk on which they were saved was long ago destroyed by some inexplicable corruption. She was not so fuzzy. We didn't even expect her to be a long-haired cat. Otherwise, she is exactly the same.
She has always been the most regal-looking beast, and all who know her only by photograph expect her to be a classic cat stereotype—queenly, aloof, dignified, stoic. She is anything but. In real life, she is silly, playful, talkative, unfathomably graceless and klutzy.
This photo of her, snapped earlier today as she sat beside me on her chair in my office, captures her perfectly. At first glance, she is the picture of imperious feline comportment—but, upon closer inspection, the tip of her little pink tongue gives her away as the goof that she is.