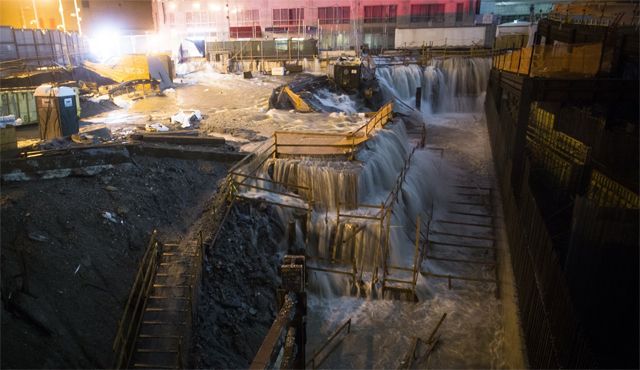 Image of sea water flooding the construction site at Ground Zero in NYC. Via John Minchillo, AP.
Sandy is
wreaking havoc
all along the eastern seaboard and moving inland. There have been at least 16 deaths in the US attributed to the storm, in addition to more than 60 deaths in the Caribbean, and more than 7 million people in the US are now without power.
Late last night, in New York City alone, 911 emergency services were averaging 20,000 calls an hour. Federal relief has been dispatched to try to restore power as quickly as possible.
Below, some of what I've been reading this morning. Please feel welcome and encouraged to share links, resources, and news in comments.
New York Times
—
Northeast Awakes to Huge Damage in Storm's Path; Millions Without Power
:
Power remained out for roughly six million people, including a large swath of Manhattan. Early risers stepped out into debris-littered streets that remained mostly deserted as residents awaited dawn to shed light on the extent of the damage. Bridges remained closed, and seven subway tunnels under the East River remained flooded.

A wind-tossed construction crane atop one of the tallest buildings in the city still dangled 80 stories over West 57th Street, across the street from Carnegie Hall, after coming loose during the storm.

The storm was the most destructive in the 108-year history of New York City's subway system, said Joseph J. Lhota, the chairman of the Metropolitan Transportation Authority, in an early morning statement. "We are assessing the extent of the damage and beginning the process of recovery," he said, but did not provide a timetable for restoring transit service to a paralyzed city.

Gov. Chris Christie of New Jersey called the damage to his state "incalculable" and said the Jersey Shore had been "devastated."

... Hurricane-force winds extended up to 175 miles from the center of the storm; tropical-storm-force winds spread out 485 miles from the center. Forecasters said tropical-storm-force winds could stretch all the way north to Canada and all the way west to the Great Lakes. Heavy snow was expected in some states.

Businesses and schools were closed, roads were closed, and more than 13,000 airline flights were canceled. Even the Erie Canal was shut down.
The Hill
—
Republican New Jersey Governor Christie Praises Obama Response to Hurricane Sandy as 'Outstanding'
:
"The federal government's response has been great. I was on the phone at midnight again last night with the president, personally, he has expedited the designation of New Jersey as a major disaster area," said Christie, in an interview with NBC's "Today."

"Last night, I was on the phone with FEMA at 2 a.m. this morning to answer the questions they needed answered to get that designation and the president has been outstanding in this. The folks at FEMA, [Administrator] Craig Fugate and his folks have been excellent," he continued.

In a separate interview with MSNBC's "Morning Joe," Christie added to the praise, saying that "the president has been all over this and deserves great credit."
It's good to know that the administration is being so responsive and everything is going as well as can be so far. We have a long way to go, and I hope relief and response continue to be as good as possible for the millions of people affected.
CNN:
Obama Updated on Sandy Through the Night
.
New York Times
Editors:
A Big Storm Requires Big Government
.
Aviva Shen at Think Progress:
GOP Strategist Defends Romney's Plan to Dismantle FEMA
.
Nate Silver in the
NYT
:
Impact of Hurricane Sandy on Election Is Uncertain
.
Jonathan Watts in the
Guardian
:
Caribbean Nations Count Cost of Hurricane Sandy
.
Kim Geiger in the
LA Times
:
Storm Hits Maryland with Everything—Waves, Wind, Snow
.
Steve Kilar in the
Baltimore Sun
:
Power Outages Across Maryland Reach Nearly 300,000
.
Michael Winter in
USA Today
:
Mid-Atlantic Mountains Brace for Sandy Snowstorm
.
The
Leader-Telegram
:
Superstorm Sandy Impacts Midwest
.
Brad Plumer in the
WaPo
:
Yes, Hurricane Sandy Is a Good Reason to Worry About Climate Change
.