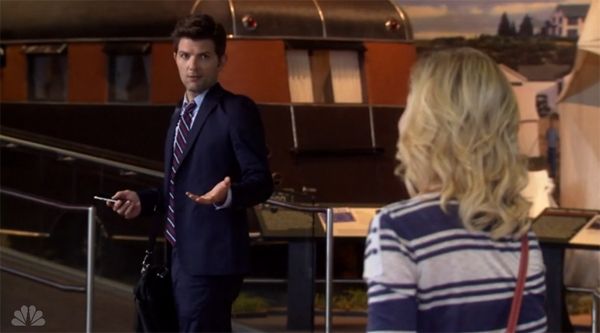 "Are you talking to my butt?" "Yes."
OUR LONG NATIONAL NIGHTMARE IS OVER!
Parks and Recreation
returned with a new episode last night, and the angels sang! It was a typically great episode, with lots of great stuff for every character, although Andy and Donna particularly tickled me last night.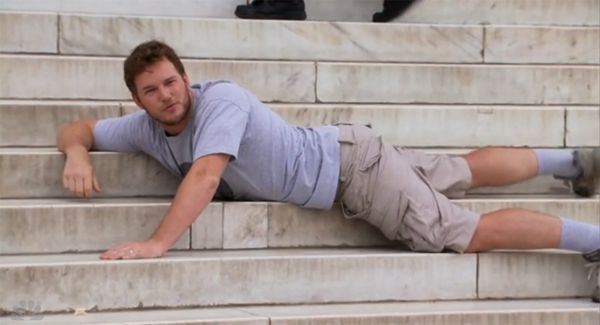 "Let's hit the national mall." "There's a mall? That's awesome! I need to get some flip-flops!"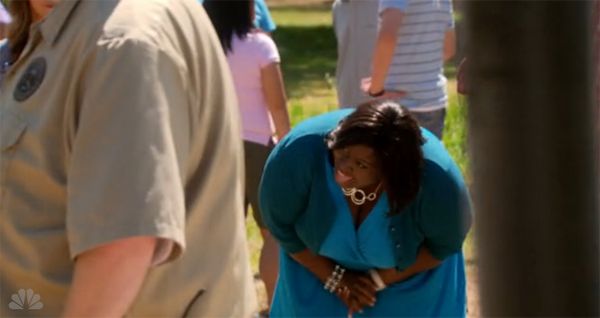 "Pig Tom!"
I loved the entire arc about Leslie, so used to being the big fish in a small pond, feeling like a little fish in a big pond when she visits Ben in DC, and navigating through her feelings of insecurity while still making sure Ben knows she's super proud of him. That was amazing.
Are Tom and Ann done? Finally? LET US HOPE SO!
I also felt weirdly moved (this show does it to me EVERY TIME!) at the scene in which Chris tells Ron, following his epic BBQ flounce, that if he wants to lead the department, he's got to occasionally
lead the department,
prompting: "Your work is appreciated. Here's some corn." Vegetable concession! Tremendous.
Some other favorite bits...

"Not to worry. I have a permit." "This just says, 'I can do what I want.'"

"You heard the boss. Scramway."

"Tommy's got the tum-rums!"

"Could we just real quick stop at the nearest place that has free pants?"

"Do you have any plates or anything? I mean, how are we supposed to eat these rumps?!"

"I thought you'd enjoy meeting numbers 4 and 26 on Leslie's List of Amazing Women."

"Twinkle twinkle, big star!"

"I'mma let y'all have this one. As someone who has lied A LOT about various aspects of a myriad of relationships, I respect the effort you've gone to. Let's call off the bet."

"The point is: You're better than Hot Rebecca. You're Kickass Leslie. Long-distance relationships are never easy, but you never,
ever,
give up on stuff. That's what makes you an amalgam. Nailed it."
Discuss!