[Content Note: Violence; police brutality.]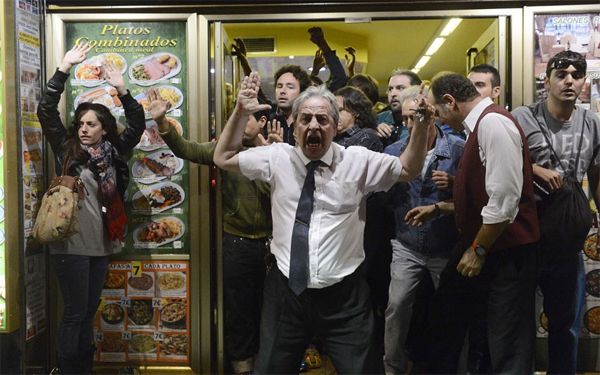 Protesters react during a demonstration organised by Spain's "Indignant" protesters in Madrid. Spanish riot police fired rubber bullets and baton-charged protesters as thousands rallied near parliament in Madrid in anger at the government's handling of the economic crisis. [Pierre-Philippe Marcou/AFP/GettyImages—via]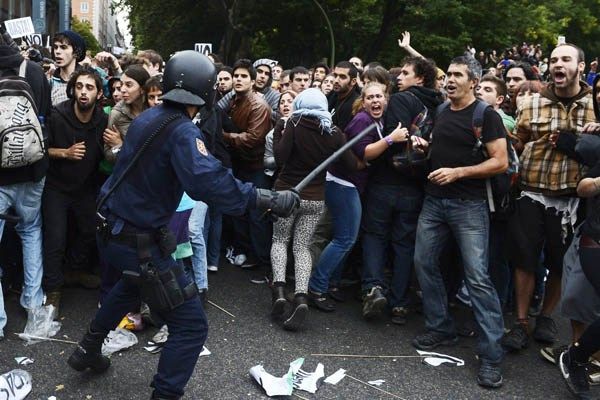 Protesters clash with riot police during a demonstration organized by Spain's "Indignant" protesters to decry an economic crisis they say has "kidnapped" democracy in Madrid on Sept. 25, 2012. [Pierre-Philippe Marcou/AFP/GettyImages—via]
Related Reading: AP:
Spain Counts Cost of Anti-Austerity Protest
.
AFP:
Spain Police Block Protesters' Access to Parliament
.
Reuters:
Spanish Prime Minister Mariano Rajoy Says All Must Sacrifice
.
Also at Reuters:
Spain to Keep Freeze on Civil Servant Wages in 2013 Budget
.
The Guardian:
The Shape of Modern Spain Is Being Questioned
.