A couple of lovely images of the dogs from the beach last weekend, taken by Shaker GoldFishy: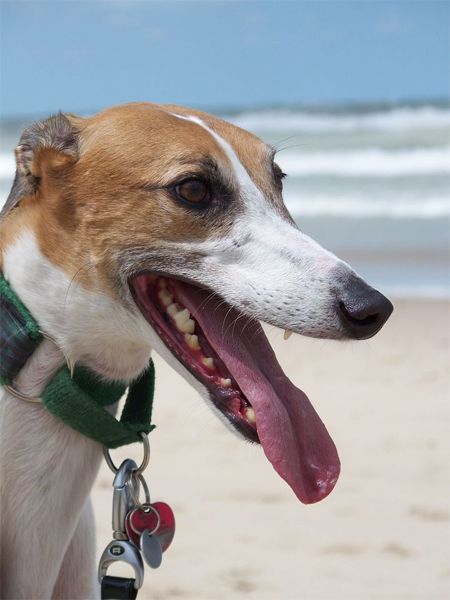 "Fangs for the memories!"
GoldFishy and I were talking about how irresistible a subject Dudley is when he's grinning with his tongue lolling out of his head. He just stands and poses, virtually begging for his picture to be taken. I told GoldFishy, "I must have one million pictures of him with his tongue hanging out: Dudley at the beach with his tongue hanging out, Dudley at the dog park with his tongue hanging out, Dudley at Christmas with his tongue hanging out..." LOL.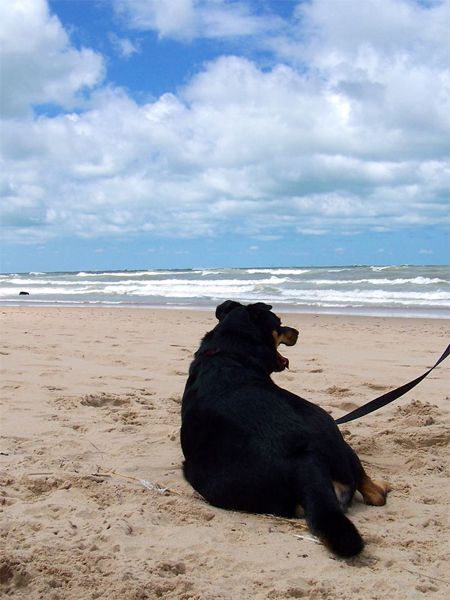 "A gal could do some major rolling in stinky stuff around here."
Walking the dog-friendly part of the beach with Zelda was a great socialization exercise for her, especially since the vast majority of dogs are on-leash there. At first, she was pretty anxious at the sight of all the dogs, and if we got too near a dog, she started pulling and whining, ready to launch into her fear aggression thing, but I made her sit and be calm, and she did it. After awhile, she was passing dogs and ignoring them after a "leave it." Eventually, she was even able to relax.
Good girl.