Today, US Representative Darrell Issa (R-Ancid), chairman of the House Oversight and Government Reform Committee, is
holding a hearing
called "Lines Crossed: Separation of Church and State. Has the Obama Administration Trampled on Freedom of Religion and Freedom of Conscience?"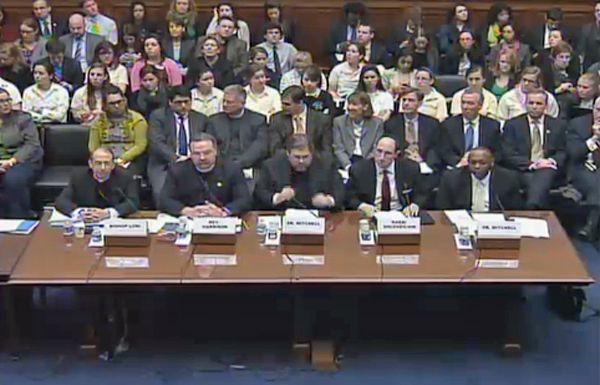 Actual photo, via
Echidne
. As you can see, the entire front row of "experts" are men.
Thomas
: "The hearing will feature 10 witnesses—
eight of whom are men; none of them is testifying in support of contraceptive coverage
. [Issa]
refused to let a female law-school student testify about the importance of birth control
. I guess women who use birth control just don't know as much about it as men who are against it."
It's such a stupendous joke that Democratic Representatives Eleanor Holmes Norton of the District of Columbia and Carolyn Maloney of New York
have walked out
.
I don't even know what to say anymore.