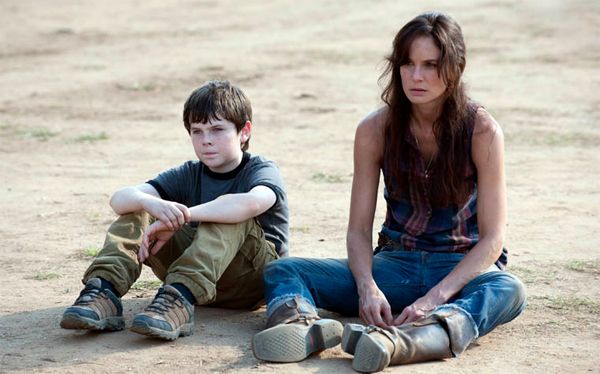 This is how I feel.
The Walking Dead
is back after a mid-season break and OMG I love and hate this show as much as ever! Although if I am honest, the scales may be tipping toward hate a little bit!
(Spoilers lurch undeadly herein.)
When
last we left
the gang, they were inching at a snail's pace toward something happening. Then something happened! Whoooooops your terrible reveal! And Lori was pregnant and was definitely a terrible person for
having considered abortion
.
We picked up right where we left off, and I was THRILLED (not thrilled) to see that we were returning to the same excruciating pace which would for realz tax the patience of a 60s kitchen sink drama.
Look BORED in Anger, more like, amirite?!
Aww, I KID the pacing of
The Walking Dead!
I kid because I hate the way it treats its female characters! Especially Lori!
1. The worst moment of the entire episode for me was Grimes telling Glenn, "You thought you were doing the right thing; it was just the wrong thing" about keeping Lori's confidence about her pregnancy. Uh, whut. Exqueeze me? I'm pretty sure prioritizing a woman's personal choices about disclosing facts of her own reproduction is the right thing, not prioritizing her husband's belief that her body is his property. Fuck you, Grimes.
2. I am going to be VERY ANGRY if Lori's utterly incomprehensible decision to go get Grimes and Glenn results in a miscarriage, thus communicating it's better to lose a pregnancy through stupidity and injury than by careful consideration and abortion.
Every time I talk to Spudsy after a new episode, he says, "This show COULD BE so good!" That about sums it up.
Discuss.