[Content Note: Reproductive rights, racism, homophobia.]
James Taranto in the
Wall Street Journal
—
Unplanned Parenthood: Illegitimacy and the liberal elite
.
Just the title alone is GREAT, is it not?
I think my favorite line is: "Not an insignificant number of affluent women who want children make the same mistake of putting off marriage until it's too late, because of unrealistic expectations about men and about the duration of their own fertility."
But my favorite part of the whole piece is the barfy piece of clipart accompanying the article: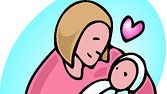 LOL.