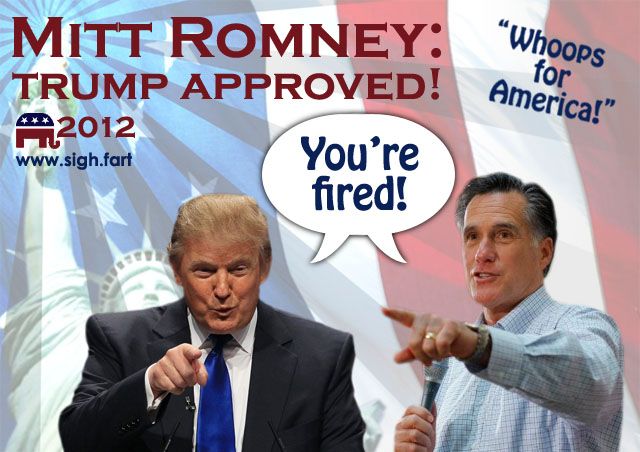 OMG, y'all! Were you SO SURPRISED by today's BIG NEWS?! Billionaire gentleman and genius
Donald Trump
DID NOT,
as expected
, endorse
Newt Gingrich
, but instead
endorsed
Mitt Romney
! WOWEE WOW! Now that's a reversal even the very talented screenwriters of
Atlas Shrugged, Part II: The Shruggening
couldn't have written! The twists and turns this primary has taken! It's like a roller coaster! Mostly because of all the barrrrrrrrrf!
There are three ways to look at this scintillating endorsement news: 1. Donald Trump knows how toxic he is, and hopes his grody endorsement hurts Mitt Romney. 2. Donald Trump doesn't know or care about anything except his own ego and flipped a coin to see which of the two conservadipshits he'd endorse once all the cameras were pointed at him. 3. Who gives a fuck.
My preference is #3. YMMV.
Something something
Ron Paul
. Something something
Rick Santorum
. Their SuperPACs each owe me $50,000 for pretending like they still matter enough to mention.
In other not-news, Mitt Romney is
a gaffe machine
and
a flip-flopper
and
a terrible, incoherent campaigner
, no doy. He is also
a dumbass
.
However, he is also still not Newt Gingrich, and thus is he
leading big in Nevada
, the site of the next Republican Primary.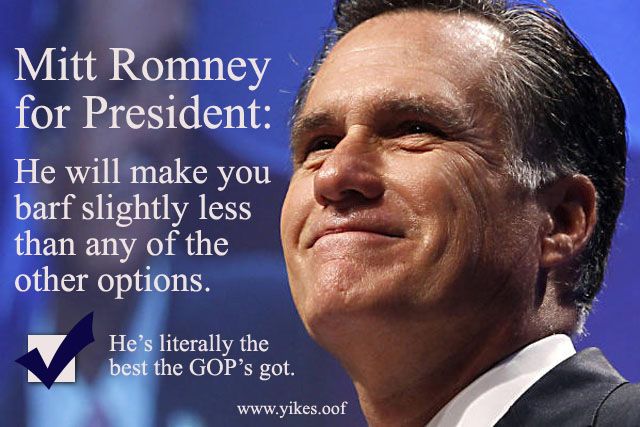 Talk about these things! Or don't. Whatever makes you happy. Life is short.