Mitt Romney
is BACK, baby! Last night,
he won
both the Michigan AND Arizona primaries, thus proving once again that he is the least barfiest of all the candidates! CONGRATULATIONS, MITT ROMNEY! Everyone hates you the least! GOOD FOR YOU!
In related news,
Rick Santorum
lost! Ha ha boooooooooo. Boo to you, Rick Santorum! You stink!
Personally, I am very glad that Rick Santorum did not win, for at least two reasons: 1. He is an epic garbage nightmare of vicious hatred who has an oily stink of sulfur where his empathy center should be; and 2. If he had won, he might have given a different speech, and then I never would have learned that
there were
female signers of the Declaration of Independence.
All of our economic plan is based on a very simple concept, based on what's worked for America from its very founding. I wave this Constitution at every speech, and I talk about it being the operator's manual of America. It's how America works. It's the "how" of America. But there's another document equally important, which is the "why" of America, and that's the Declaration of Independence. And in that declaration is these words, "We hold these truths to be self- evident that all men are created equal and endowed by their creator with certain inalienable rights."

That -- that phrase was the most transformation phrase ever written in a government document. That phrase said that we are going to be a country with limited government and believing in free people to be able to form families, and communities, and churches, and educational institutions, and hospitals, and be able to build a great and just society, a free society from the bottom up.

That's how America works best, from the bottom up. And that's the solutions that we're going to propose for America, the bottom up.

The men and women who signed that Declaration of Independence wrote this final phrase: We pledge to each other -- we pledge to each other our lives, our fortune, and our sacred honor.
Now, it's true that "America works best, from the bottom up" is definitely what she said, but the people who wrote and signed their names to the phrase "all men are created equal" were all men.
Rick Santorum, please report promptly to
Seneca Falls
for a nap.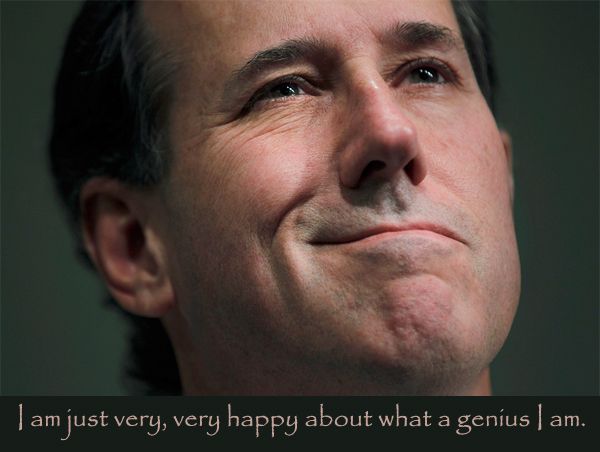 Something something
Ron Paul
. Something else
Newt Gingrich
. Whatever yawn fart. These two are making my fingers tired.
In useful tools,
here is a handy delegate count
for the Republican primary! It's very neat and you should definitely look at it! Right now, Romney is leading with 146 delegates, and Ron Paul is losing with 18 delegates. Awwwwww ha ha. Hang in there, Ron Paul! You only need 1,144 to win!
Next Stop:
Super Tuesday
!
Talk about these things! Or don't. Whatever makes you happy. Life is short.