Hey, do you remember in 1992 when Pearl Jam played MTV's "Unplugged," and Eddie Vedder had PRO-CHOICE scrawled down his arm?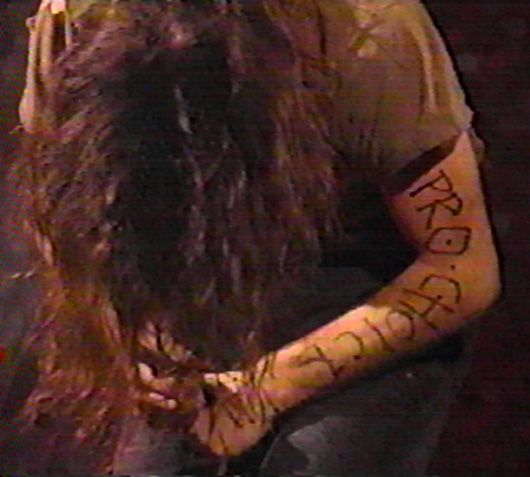 I do. I remember it like it was yesterday, because I was 18 and a burgeoning feminist and OMG there was a guy, a guy whose music made my teeth grind with
fuck yeah
and whose voice made my toes curl with pleasure, a guy who was so goddamn cool I couldn't decide if I wanted to fuck him or be him, and he was pro-choice. He believed in my rights, believed in them passionately enough to broadcast it to everyone. Every damn one. OMG.
In the interceding years, Pearl Jam has been the sort of band that I've been able to grow up with, both musically (I am still
loving Backspacer
like I bought it yesterday) and ideologically, whether they're challenging the Ticketmaster monopoly or advocating for wildlife conservation. They got in my soul and they stuck there.
Which is why I am the Blubmaster General when I read stuff like
this
:
Why I am proud to call Pearl Jam friends of mine, reason eleventy billion

So this happened:


Thanksgiving weekend saw a rash of burglaries in Burlington's Old North End. Among the victims was Ben Hardy, a Seven Days freelance music critic, who returned from a ten-day vacation last week to find his house had been broken into and burglarized.

The thieves got away with a veritable studio's worth of musical items, including five guitars, two amps, a sound system and a turntable, as well as some clothing. But they also made off with something invaluable and irreplaceable: A Fender Telecaster signed by the members of Pearl Jam, given to Hardy's late older brother, Joshua, when he was a teenager.

In 1991, when he was 16, Joshua Hardy was diagnosed with terminal brain cancer. The following year, he was granted a wish by the Make-A-Wish Foundation to meet his favorite Seattle grunge bands …unquestionably, the highlight of the trip was receiving the signed Tele from Pearl Jam. Joshua Hardy died a few months later.

But wait, it gets suckier. The guitar was recovered, but the thieves had sanded off the signatures — presumably to make it less recognizable.

So this is how the band responded when they heard about it:


Just before heading home to Durham, N.H., for Christmas, Hardy was surprised with an unexpected delivery. "FedEx delivered a new guitar," he said. "In a note Pearl Jam said they've been following the story and this is what they decided to do. It's an amazing gesture of goodwill. It exceeds expectations … They went above and beyond."

Ben and Josh's mom, Donna Hardy, said, "It's a blessing for our family to have all this happen. This is our Christmas story. Pearl Jam is amazing and to think that they remembered Josh after all these years is incredible."

I know Ed a lot better than I know the rest of the band, but I've dealt with all of them enough to know that they're genuinely decent guys. This is just one more example of that.
So great.
It's not like I'm under the misapprehension that the members of Pearl Jam are perfect people, that they've never done anything I wouldn't like. (Fuck,
I've
done things I don't like.) It's just that the memory of Eddie Vedder with PRO-CHOICE on his arm crosses my mind more than you might think, twenty years later, and I am grateful to be able to still feel good about it.