I've been trying to figure out what I want to say about
the end of the Iraq War
all day. It seems simultaneously enormously important and curiously small, the final bulletpoint in an eight-year war that was supposed to last six months.
I did not support the war, in which than 1.5 million US troops eventually served, more than 30,000 of whom were injured, many of them catastrophically, and more than 4,500 of whom died, but I appreciate the service of the people who fought it, [TW]
most of whom
did the jobs asked of them with decency.
The numbers of injured, dead, and displaced Iraqis are not so certain. To the people of Iraq, most of whom also comported themselves with decency, even in circumstances that would challenge anyone's will to be decent, I hardly know what to say, except that I'm sorry.
I just don't know that there's anything I could write, nothing that isn't some trite bit of partisan opportunism. No one wonders who I blame for this mess. I don't need to say it again.
So here is a picture of President Obama, at Fort Bragg, celebrating with the troops that he brought home.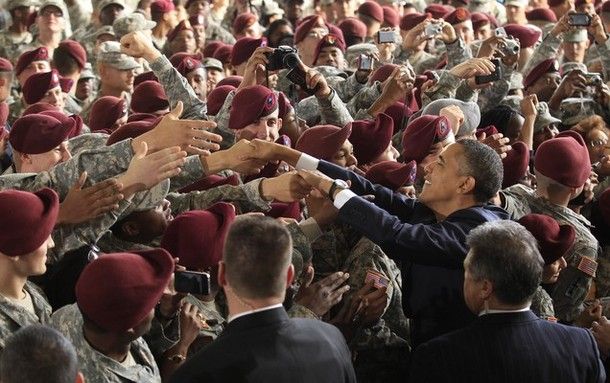 There are still 15,000 troops in Iraq, and US foreign policy is still a garbage disaster, but, right now, in this moment, I just want to enjoy the image of our President, welcoming the troops home.