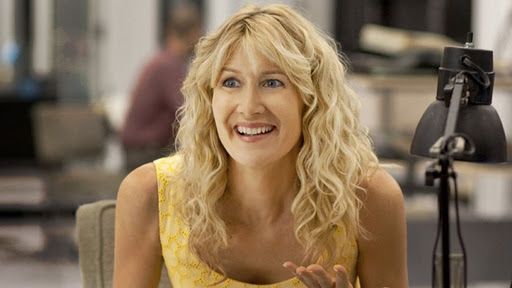 Today in Good TV News: HBO
has renewed
Enlightened
for a second season.
When HBO first announced that it was going to air a series helmed by Mike White (who is great) and starring Laura Dern (who is amazing), I was extremely excited. I mean, honestly, to merely say I adore Laura Dern isn't sufficient. She is a brilliant actress, whose work I've admired since I was a kid.
Wild at Heart
's Lula is one of my all-time favorite movie characters, not because the character is lovable, or even particularly likeable, but because of the way she is played by Laura Dern.
Then came the marketing for
Enlightened
, which made me nervous. The poster
pictured
Dern in close-up with mascara streaking down her face, wearing an expression I can best describe as stricken. Still, I am
well aware
that the marketing of a TV series or film can wildly misrepresent its actual content, for good or bad.
So I watched the pilot episode. And it was...okay. If it hadn't been Laura Dern and Mike White, I wouldn't have kept watching. But it was. And Dern's real-life mother, the fab Diane Ladd, playing her character's mother, as she did in
Wild at Heart.
That was enough to keep me watching. I kept watching.
And by the time the series ended last week, I was a committed fan.
There are a lot of reasons I like
Enlightened.
The relationship between Dern and her mother. The exchanges between Dern and White. The subtle but incisive commentary on how do-gooding frequently can't pay the bills, if a path to do-gooding is even apparent (which it often isn't). The commentary on corporate workplace culture, and how it differs at different professional levels. For me, though, it's mostly about Laura Dern.
She plays the central character, Amy Jellicoe, with such extraordinary finesse: Jellicoe is an awkward, clueless, self-centered, privileged pain in the ass, but Dern imbues her with enough vulnerability and decency that she is a character worth caring about, even as she fumblefucks her way through each day, constantly disappointed by the people around her who haven't been enlightened by recovery.
It is a source of both humor and angst to watch her practice the good approaches recommended by therapy and repeatedly bump up against the disinterest of an apathetic world where healing is hardly a priority. Jellicoe, in Dern's capable hands, becomes a
relatable
character, and when I see myself in her, I squirm. But I also laugh.
And then there's this: Laura Dern is 44. She is stunningly gorgeous, and she looks 44. I want to neither explicitly nor implicitly condemn actors who make the decision to get plastic surgery or fillers, because that is a valid choice and an entirely understandable one especially in an industry that puts such a premium on youth and compliance with the Beauty Standard. Dern has simply made a different choice, equally legitimate but much rarer, and it is remarkable to see a woman with beautiful lines on her face every week.
The ten episodes of the first series of
Enlightened
were directed by either Mike White, Miguel Arteta, Jonathan Demme, Nicole Holofcener, or Phil Morrison, all five of whom give the audience something to which we are rarely treated: Long, lingering shots on the face of an actress.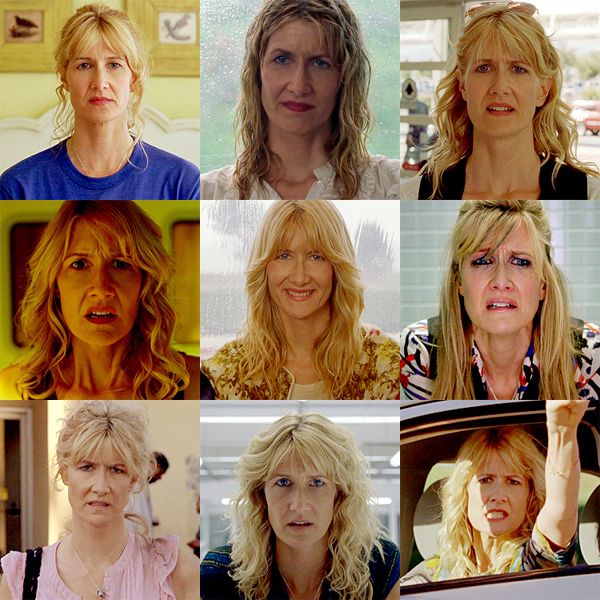 We gaze at her countenance straight on; her face is not tilted up and shot from above, from the "male" perspective. The shots hold her expression, and let us look at her
feel
something. The way the show is directed says
this person means something,
and it was breathtaking to me week after week how radical it felt to me for that message to be conveyed by a show about its female lead.
Anyway. I'm thrilled
Enlightened
is being given a second season. I can't wait to see it.