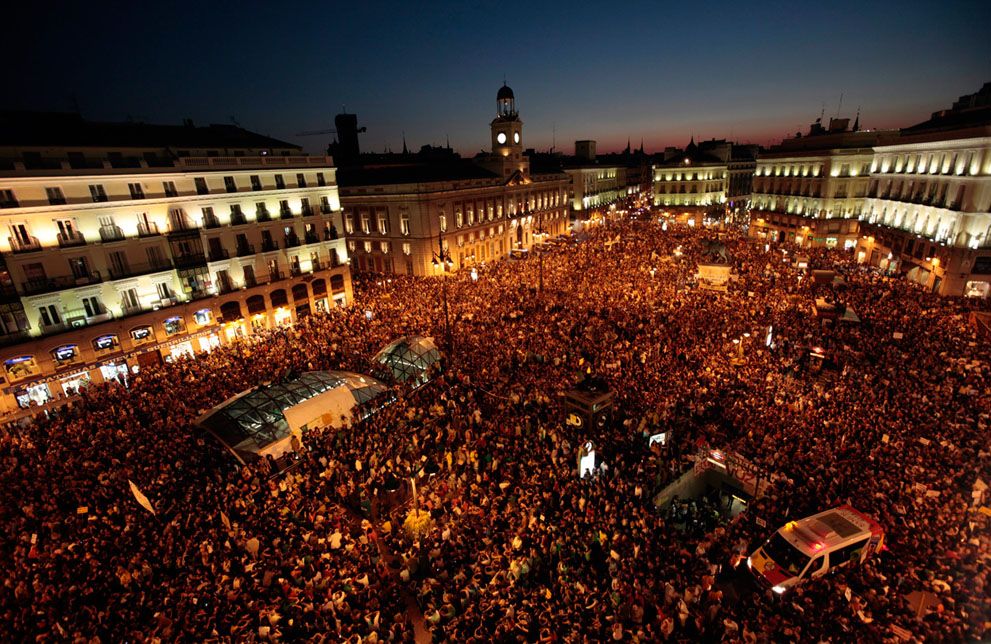 Thousands of demonstrators gather at Madrid's landmark Puerta del Sol as part of the United for Global Change movement against banking and finance in Madrid October 15, 2011. Demonstrators rallied on Saturday across the world to accuse bankers and politicians of wrecking economies. (Reuters/Susana Vera)
Photo from
The Atlantic
's image gallery,
Occupy Wall Street Spreads Worldwide
.
The Guardian
has another excellent gallery
here
. For the Most Adorable Occupy Wall Street Protester, go
here
. And for the Occupy My Life marriage proposal, go
here
.
In "What Are These Dirty Hippies Protesting, Anyway?" News:
Bank of America Earnings Report: Bank Sees $6.2 Billion Profit
.
Bank of America earned billions of dollars in profits last quarter, even as banking officials expressed concern recently about the effects of new regulations on their bottom line. The largest bank by assets reported third quarter gains of $6.2 billion.

...The increase in profits comes after Bank of America roiled customers by announcing that it will start charging customers $5 per month to use their debit cards for purchases in 2012. Shortly after the bank announced the fee, Bank of America CEO Brian Moynihan defended it, saying that the bank "has a right to make a profit."
Sure, because that's what everyone's complaining about: That the bank is making a profit at all, not that it's making a
$6.2 billion profit quarterly
, while there are millions of USians without income and/or healthcare and/or homes and/or food.
New York Times—Bloomberg Says 'Tent City' Goes Beyond Free Speech: "Mayor Michael R. Bloomberg, speaking Monday as Occupy Wall Street protesters celebrated the passage of a month encamped in Zuccotti Park, said he was trying to strike a balance between protecting protesters' right to free speech and the needs of Lower Manhattan residents. 'The Constitution doesn't protect tents,' he said at a news conference in Queens. 'It protects speech and assembly.' The mayor expressed concern that those exercising a 'right to be silent' might be getting drowned out amid the din of the protests."

Think Progress—Poll: New York City Voters Overwhelmingly Support Occupy Wall Street: "Despite Mayor Michael Bloomberg's aversion to the protests, 67 percent of New York City voters agree with the views of Occupy Wall Street and say by an 87-10 percent margin that it's 'okay that they are protesting,' according to a new Quinnipiac poll out today. Even 52 percent of the city's Republican voters agree that protesters 'can stay as long as they wish,' as long as they obey the law."

The Hill—Left finds mojo in Wall Street protests: "Liberals who have felt scorned and overlooked by the White House say they are rejuvenated by the protests launched from Zuccotti Park in Lower Manhattan, and hope that they provide Obama and liberal causes with new impetus and vigor. 'For those of us that have been taking those positions for a long time, it is a confidence booster, and I think that makes us a little more assertive,' said Rep. Raul Grijalva (D-Ariz.), co-chairman of the Congressional Progressive Caucus (CPC)."

USA Today—Occupy protesters seek to meet Obama: "We're waiting to see whether President Obama cites the anti-Wall Street protesters during his bus trip through North Carolina and Virginia. ... A group called Occupy Greensboro -- modeled after the Occupy Wall Street protests -- seeks a meeting with Obama and may picket the hotel where the president plans to spend the night, reports the Greensboro News & Record."

Mustang Bobby has a good piece about the naysayers.

Susie on the dipshit hypocrite Eric Cantor.

Armando (aka TalkLeft's Big Tent Democrat) interviews his daughter about being a part of the protest.

And this is my favorite story of the day, via Animal New York—Jesse Jackson Occupies OWS Medical Tent, Saves it from Being Evicted by NYPD: "A little after 11:25PM, there was a big commotion on the south side of Zuccotti Park as someone mic checked that the NYPD was moving into to remove the 'medical tent' (tents are a violation of the park's rules.). Occupy Wall Street protesters immediately locked arms and vowed to protect it. Out of nowhere, civil rights activist Jesse Jackson swooped in and briefly spoke face to face with the NYPD as officers continued to amass on Cedar Street. A demonstrator asked him to join the 'human barricade' to which he immediately agreed. She took his hand and led him over to the tent, which he then proceeded to guard, locking arms with others who formed a circle around it. After a few tense minutes, the police dispersed and the crowd cheered. The tent will not be removed tonight."