[Trigger warning for rape culture; misogyny; exploitation.]
Over at AlterNet, Sarah Seltzer has written
a very fine article
about some of the high-profile rape cases in which there has been a variety of hostility toward survivors, who find justice elusive. (Disclosure: I am quoted in the article.)
The headline of the article is: "Cop Rapes Woman at Gunpoint, 11-Year-Old Rape Victim Smeared, Accuser Sued for $2 Million: Is US Society Failing Victims?" The subhead is: "What is it with our inability to find justice for victims?" Those are very good questions, the answer to which are found in discussions of the rape culture, which Seltzer does quite well.
Which is what gives a horrible irony to the ads I was served while reading the article: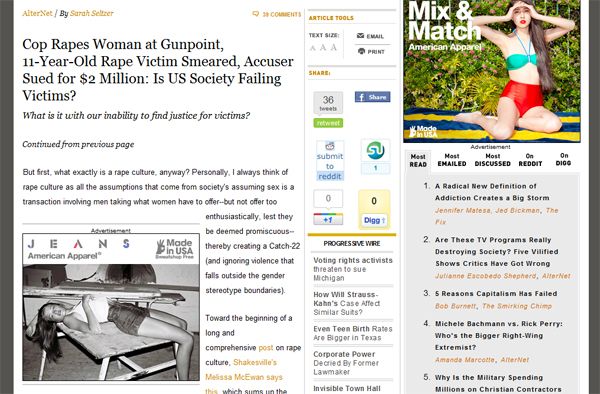 [Click to embiggen.]
The black-and-white advert is more complex than a screen cap suggests, as it is actually a series of two images—the first showing the girl sitting up and looking at the camera, the second showing her lying on her back, as if to suggest she has succumbed to a sexual invitation.
Treating women as an objectified sex class who exist in a perpetual state of consent and whose bodies are consumable public property is the cornerstone of the rape culture. This sort of exploitative advertising, which perpetuates the rape culture by reinforcing its narratives, is terrible in
any
context.
But to be obliged to gaze at sexualized young girls (who totes want to have sex with you; you don't even need to ask; their bodies are yours for the taking) alongside an article about women and girls who have survived sexual violence being failed by their society is a special kind of horror.
What is it with our inability to find justice for victims?
I wonder.