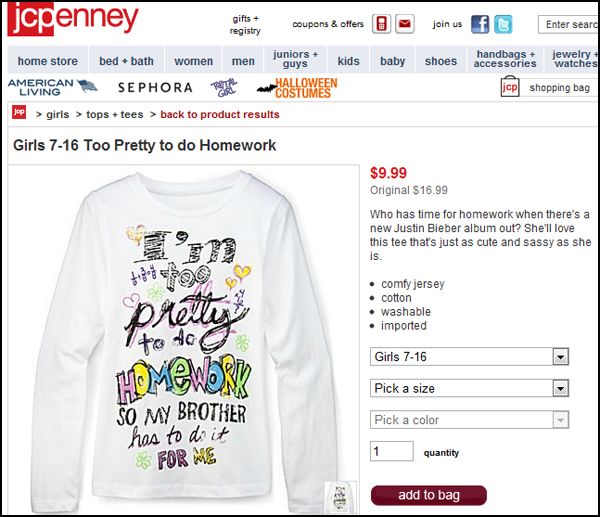 Shaker Suzanne emails that JC Penney is currently selling this girls' shirt
on its website
. And not only are they selling a shirt reading "I'm too pretty to do homework so my brother has to do it for me," but the catalog blurb reads: "Who has time for homework when there's a new Justin Bieber album out? She'll love this tee that's just as cute and sassy as she is."
Are you kidding me?
What makes this even more tragically hilarious is JC Penney's "
Commitment to Inclusion & Diversity
" on their corporate website, which asserts that their "long-term success depends on our ability to leverage the unique skills of our diverse workforce." Presumably, that includes women. Presumably, their female employees need to know basic skills that they learned
doing their own homework.
JC Penney also claims to "believe in doing what is 'right and just'; jcpenney is committed to being a good corporate citizen through the support of environmental, social and ethical initiatives." Here's a neat social and ethical initiative for you: FEMINISM. Or, if you prefer: Not treating girls like garbage.

Contact JC Penney and politely ask them to remove this item from their catalog and their stores:
Tel: 1.972.431.1000
Twitter:
@jcpenney
Facebook:
JC Penney's Page