And, finally, he makes an appearance where it really makes sense:
On a receipt from Wal-Mart
, the biggest holy institution in the United States of Corporate America.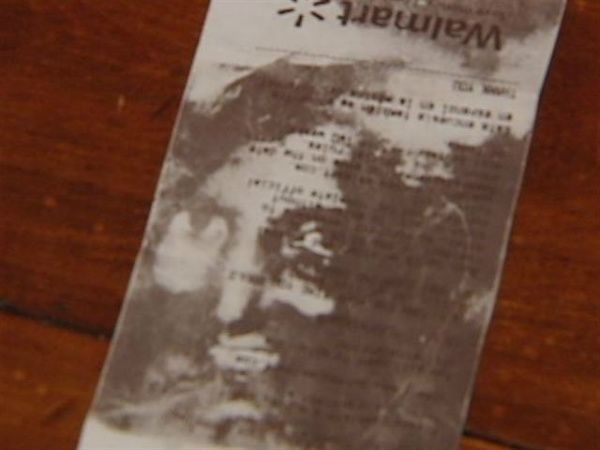 An engaged couple in Anderson County says a shadowy image that turned up on a receipt from Walmart looks like the face of Jesus.

Jacob Simmons and his fiancee, Gentry Lee Sutherland, said they bought some pictures from Walmart on Sunday, June 12.

The following Wednesday, the couple had just come home from a church service when Simmons spotted the receipt on the floor of Sutherland's apartment. He says the receipt had changed.

"I was leaving the kitchen and I just looked on the floor, and it was like it was looking at me," Simmons said.

A dark gray mark on the receipt seems to show two eyes, a nose and a mouth in a thickly bearded face.

"Then the more you look at it, the more it looked like Jesus, and it was just shocking, breathtaking," Simmons said.
A. That is clearly a portrait created by the world's most beloved underground artist, Pizza Grease.
B. That is clearly a portrait of Charles Manson, not Jesus.
[Holy folks Gone Wild:
Weeping and bleeding
and appearing in
Cheetos
,
more Cheetos
,
pretzels
,
fire
,
pizza sauce
, and on
pancakes
,
baking sheets
,
pizza pans
,
doggy doors
,
ice
,
peanuts
,
x-rays
,
turtles
,
ultrasounds
,
chocolate
,
dying plants
,
sheet metal
,
trees
,
more trees
,
more trees
,
more trees
,
more trees
,
more trees
,
wardrobes
,
water stains
,
plates of pasta
,
drywall
,
fish
,
grilled cheese sandwiches
,
potato chips
,
a bathroom door
,
a banana
,
a bruise
, and
a shower
.]