[Possibly NSFW image of tighty-whitey clad bum below.]
Well, it's been practically tens of minutes since we last had the opportunity to get excited about a film about white people in love (or ARE they?!), so I bring you the trailer for
Larry Crowne
, the latest Tom Hanks-Julia Roberts vehicle named after Tom Hanks' character. I'm pretty sure it's a sequel to
Charlie Wilson's War
. Whatever.
Universal Pictures
describes
this movie as the story of "how the hard knocks from today's recession inspire one everyday guy to undergo a personal reinvention." Topical! Also: Fun escapism. I like watching a multimillionaire play an "affable, amiable…superstar team leader at the big-box company where he's worked since his time in the Navy" who gets "downsized" and is "underwater on his mortgage," so he "heads to his local college to start over" where he "becomes part of a colorful community of outcasts, also-rans and the overlooked all trying to find a better future for themselves" almost as much as I like watching a multimillionaire
joke about being unemployed
.
I know, I know—it's acting, and who's going to play a financially struggling downsized big-box company man if Tom Hanks doesn't? Well, off the top of my head, maybe one of the thousands of financially struggling actors whose work doesn't get filtered through images of them pulling up to
red carpet events
in their
custom-made electric moon cars
.
But that's my problem, not multimillionaire Tom Hanks' problem! Dude already got my
Forrest Gump
money.
Anyway, let's get to the trailer and meet this aforementioned "colorful community of outcasts," who I'm sure won't be a collection of half-baked, one-dimensional, stereotypical anachronisms played by talented but unknown actors barely given the opportunity to breathe life into their affectedly quirky characters in just enough screen-time to give the thin veneer of diversity, but not so much screen-time that there's a risk of thunder-stealing from any aging white people coasting on former glories who might happen to be phoning it in.

Oscar Winner Tom Hanks is Larry Crowne, a stupidly happy employee of Wev-Mart, where he exchanges good-natured banter with his Asian-American coworker. He gets called to see the boss, and he and his coworker expect it will be so he gets his ninth Employee of the Month award. He is a good worker! And he loves his job!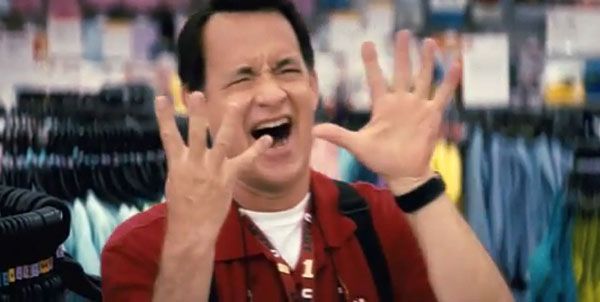 "Nine times!"


So you can imagine what a SHOCKING REVERSAL it is when he is not awarded another laminated Word-template certificate and gift card to Applebee's (or whatever they give to Employees of the Month at Wev-Mart), but instead is shit-canned "because [he] didn't go to college." Sure. Because what big-box stores like Wev-Mart are totally known for is firing competent, reliable, enthusiastic, experienced straight white men whose lack of college experience does not actually make them unfit for management but does make them super-exploitable salary-wise.

Larry Hanks does not consult immediately with an attorney to begin a wrongful termination suit, but does consult with his wise friends of color, Cedric the Entertainer and Taraji P. Henson, who tell him, "Get you some knowledge and you'll be fire-proof," and "You're never too old to learn."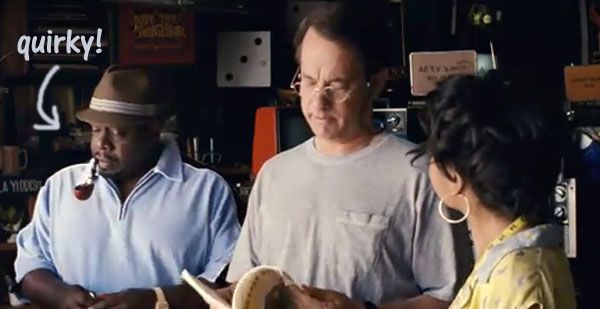 Cedric the Entertainer doesn't know what he's talking about, but Taraji P. Henson makes a good point: You are, in fact, never too old to learn. Here's a good lesson, for example: Movies that fill the world of a straight white man with idiosyncratic people from marginalized communities are garbage.

Cedric the Entertainer fixes a scooter for Larry Hanks. Neat! If there's one thing I know for sure, it is easy and affordable to become a scooter aficionado. If there is a second thing I know for sure, it is that real-life scooter aficionado Paul T. Spud will barf at this movie.

Gugu Mbatha-Raw tells Larry Hanks he looks like an ex-cop because he wears a polo shirt. (Whut?)

Professor Julia Roberts walks into her classroom, where she is scheduled to teach public speaking, and finds only nine students. Relieved, because no doy professors at community colleges are happy when their classes are under-attended and get canceled and they don't get paid, she tells them there is no class because there aren't the minimum 10 students. Whoooooooooooops! Larry Hanks comes running in. Classic Hanks. Foiled again, Professor Roberts!

Scenes from class. They are SO boring. If this stuff in the trailer is the best stuff from the movie, this movie is THE WORST. Listen up, Hollywood: If you're going to make a low-rent garbage disaster of a film, you've got to at least make it so bad I want to laugh at it, not so bad I want to take a nap forever.

Professor Julia Roberts makes herself a mixed drink and gets brain freeze. She is having a vocational crisis and wonders if she makes a difference to anyone. I BET SHE'LL MAKE A DIFFERENCE TO LARRY HANKS! What do you guys think?

Larry Hanks has a crush on Professor Julia Roberts. But he is, as has been established, an ex-cop looking dipfuck. LUCKILY he has friends of color who can help him! Gugu Mbatha-Raw brings him to her lorry of used clothes (?) and tells him to pick out some new outfits. Her boyfriend rides a scooter, too. He sees Larry Hanks in his underwear. My fingers are considering going on strike, because they do not consider writing about this movie worth the increased risk of arthritis.



Larry Hanks sees Professor Julia Roberts waiting for a bus. He offers her a ride on his scooter. She says haughtily, "Fine, but I will not wear that bucket on my head." Cut to: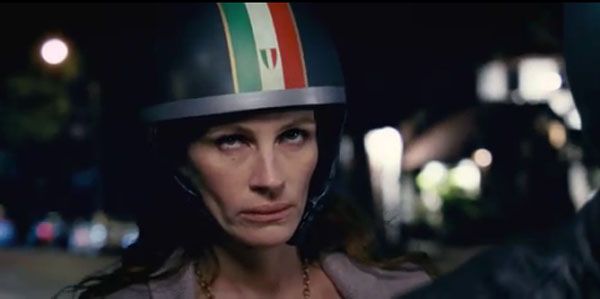 I feel your pain, sister.


Music. Montage. Gee, community college with a cast of colorful characters looks fun! Scooter parade! It's very cool that this awkward white man has a lot of people of color around to help him get his life in shape. Professor Julia Roberts wants to kiss Larry Hanks. Oooooo! He does, because he's hot for teacher.

She catches him through the peephole dancing asininely, as if he's just scored a touchdown. "I can see you!" He covers the peephole.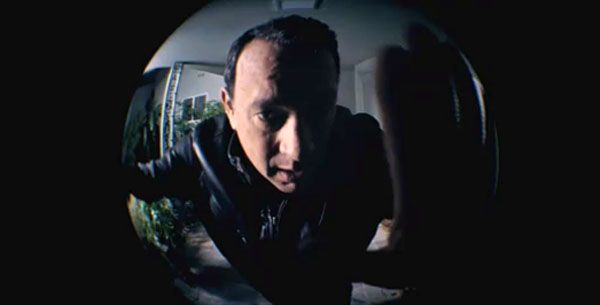 Oof, Tom Hanks. Oof.